Diversifying the Earnings Base and Promoting Group Management
4
Strengthening Earnings Capacity (1) Building Construction Business
Initiatives for Increasing Productivity
Signs of recovery in corporate capital investment began to emerge in FY2012.3, but a full recovery remained elusive due to electric power shortages following the Great East Japan Earthquake and the historically strong yen. To secure earnings in the challenging business environment, the company embarked on a campaign to increase productivity at construction sites. The Building Construction Division established an action plan, setting a goal to increase on-site productivity by 5 percent, and proceeded to review on-site operations, utilize ICT, strengthen on-site support by permanent departments, strengthen cooperation among job categories, and review the plan for assigning on-site personnel.
Among these efforts, the use of ICT played a significant role. One of the technologies employed was building information modeling (BIM). In April 2010, the company established the BIM Promotion Department in the Building Construction Division and developed basic workflow and infrastructure for BIM use, including creation of manuals and databases and employee training. As a result of these accomplishments, in 2013, the BIM application rate for design and construction projects at all branches reached 50 percent on a contract amount basis, contributing to increasing productivity through early consensus building with clients and prevention of backtracking.
The first building that incorporated BIM in the entire process from design to construction was oak omotesando (former Aoyama Obayashi Building), which was completed in March 2013. Coupled with the use of other innovative technologies, provision of three-dimensional visual models created by BIM allowed stakeholders to thoroughly study the construction process and other factors in advance and proceed with construction efficiently and smoothly. Additionally, in October 2013, the BIM Promotion Department was reorganized and renamed the PD Center for the company to further enhance support for individual projects handled by the Tokyo Main Office and to integrate BIM in the design and construction stages. PD Center takes its name from the initials of "Designs and Delivers Projects and Products using BIM."
In another ICT utilization strategy, since August 2012, all engineers who perform construction management at construction sites in Japan and overseas have been carrying tablets and using them for various on-site construction management tasks and inspections. By making the most of the mobility and visibility offered by tablets, engineers can check drawings and the latest data as well as process work while on site. The company has also developed its own applications to support construction management, such as inspection systems for rebars, equipment, and finishing, thereby improving operational efficiency and quality control. In 2014, Obayashi Corporation incorporated the robot suit HAL to help workers transport heavy objects and perform other on-site work that puts strain on the lower back. In doing so, the company has demonstrated its swift action in implementing measures to support its aging workforce.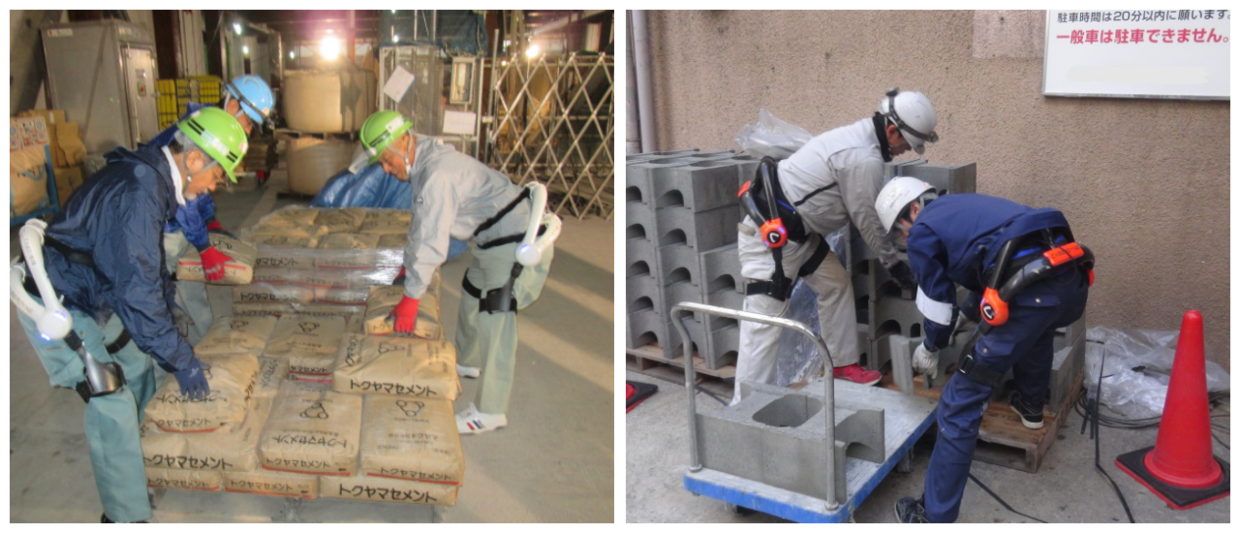 Strengthening Procurement Capabilities
While the number of project orders coming in gradually began to show signs of improvement, profit on construction contracts was not high. Obayashi Corporation had a strict policy of avoiding loss making construction orders with no strategic value. However, lower margins at order intake due to severe price competition and increases in labor and other construction costs squeezed construction profits. To boost profitability, the company needed to secure reliable profits when accepting orders by giving greater priority to profitability in its marketing activities and resolutely avoiding loss making construction orders. Together with this resolve to secure profits in the construction stage, it was necessary for the company to carry out strategic procurement and to plan and implement a construction cost reduction strategy based on estimated net costs that reflected procurement prices.
Accordingly, the company reorganized its cost-related departments of the building construction business. First, in January 2012, the Tokyo Main Office abolished the Cost Management Department and established the Procurement Planning Department. The Procurement Planning Department has taken charge of the planning and overall supervision of procurement and estimate calculation, and works together with the sales and marketing department to formulate strategies for winning construction contracts and reducing construction costs. The Materials Department and the Purchasing Department were also abolished, and procurement departments were established for each type of construction (Procurement Departments 1 to 4, Overseas Procurement Department, and Mechanical and Electrical Procurement Department). These procurement departments are responsible for conducting market research, working with estimate departments to calculate cost estimates based on procurement prices, and realizing procurement in accordance with the contract award and construction cost reduction strategies.
As a result of the sales and marketing and estimate departments working together to improve cost competitiveness, the company was able to accurately predict final costs when bidding and make more appropriate decisions on winning tenders. Following the Tokyo Main Office, similar measures were implemented at the company's other branches in Japan (Osaka Main Office's Building Construction Division and the Nagoya, Kyushu, Tohoku, Sapporo, Hiroshima, Shikoku, and Hokuriku branches). In January 2013, all branches reorganized their cost-related departments and established procurement departments. This has enabled all branches to narrow down price-competitive suppliers and raise the precision of estimates to accurately forecast final costs at the bidding stage and make well-informed decisions regarding winning tenders.
Strengthening Competitive Advantage and Redevelopment Projects in the Greater Tokyo Area
Amidst this tough climate for winning new contracts, construction profit margins gradually improved through the company's steadfast implementation of its policy of focusing on profitability. Nevertheless, domestic construction investment was not expected to expand over the medium to long term, although some recovery was forecast in the short term.
To sustain the company's growth under these conditions, Obayashi Corporation needed to increase its market share in the Greater Tokyo Area, where about half of the construction investment is concentrated. The company strengthened its sales capabilities by, for example, formulating strategies for target projects at an early stage and improving the price competitiveness of design and construction projects. Subsequently, the company's share in the Greater Tokyo Area among the 50 leading companies rose from 6.4 percent in FY2012.3 to 8.6 percent in FY2014.3.
Additionally, for the company to continue to improve business performance over the medium to long term, it was important to secure a stable volume of orders, win more construction projects that would eventually lead to renovation work later on, and carry out ongoing activities to support customers over the long term. Further expansion has been projected in the renovation market, and so the company reorganized its renovation-related departments in October 2014 in the interest of winning contracts and improving earning capacity.
As a way of consolidating know-how and flexibly utilizing design personnel, the Tokyo and Osaka Main Offices—the central players in winning contracts for construction projects, integrated the building renovation design functions that had been dispersed between the Building Maintenance Center and the Architectural Design & Engineering Department, and established the Renovation Design Department in the Architectural Design & Engineering Division. A customized support system was developed for branches to actively propose renovation work to customers and boost orders. For building surveys, diagnoses, and renovation proposals, the Tokyo Main Office's After-Sales Service Center was to support branches east of the Nagoya Branch and the Osaka Main Office's After-Sales Service Center was to support branches west of the Osaka Main Office.
At the same time, the company stepped up its large-scale redevelopment projects through collaboration with the real estate development business. One particular collaboration involved a project in which the company was contracted for the Loop Road No. 2 Shimbashi-Toranomon Redevelopment District Type II Project Zone III (Toranomon Hills) (executor: Tokyo Metropolitan Government). This was a large-scale commercial complex and redevelopment project in the Toranomon district near the government offices in Kasumigaseki, Tokyo. It was the first project in Tokyo involving a road (Loop Road No. 2) that was to pass through a high-rise building. Obayashi Corporation constructed a 247-meter skyscraper with 52 floors above ground and 5 floors underground, and completed its works in 2014.
Developing New Technologies and Expanding their Application: Secure and Safe Buildings
The experience of the Great East Japan Earthquake triggered heightened interest in technologies that offer safety and security to protect people's lives and business activities from natural disasters. Obayashi Corporation embarked on developing and applying more new technologies to meet these social needs.
In 2012, the company developed "lineart panel," an exterior wall with superior design and no peeling or spalling. Extruded cement panels (ECPs) were frequently used for exterior walls of medium- to low-rise buildings. However, ECPs's finishes using large, high-grade tiles and other materials require anti-spalling measures and demand high maintenance costs, such as for full inspection every ten years. The lineart panel has made the achievement of the same high-grade finish as a large tile exterior wall possible, through the application of a special joint groove process and high durability fluorine resin coating to the surface of the ECP. In addition to lineart panel having excellent design, tile peeling and spalling is not a problem, so it does not require full inspections, offering a solution for safe, secure, and durable exterior walls at low cost.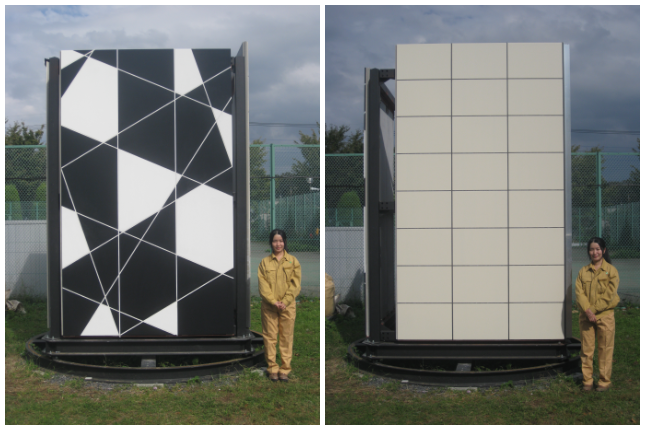 O-LiPROS, a lightning protection system using the precast concrete (PC) construction method, was also developed and put into use. In the PC construction method, mechanical mortar-filled joints are mainly used to connect rebars between elements. The O-LiPROS system electrically connects the mechanical joints and main rebars with lightning protection connectors, such that the main rebars of the columns are used as lightning current conductors. With this system, the company made possible internal lightning protection for reinforced concrete high-rise apartment buildings and other structures.
The company also applied its proprietary technology, the Dual Frame System vibration control structure system, to build low-cost vibration control warehouse structures. The structures are designed to prevent boxes from falling at multi-tier automated warehouses during an earthquake.
The company also made improvements to the "brake damper," a vibration control system for buildings, and developed a new type of low-cost, compact brake damper. By increasing the number of friction faces from the conventional two to four, doubling the friction force, the company succeeded in creating smaller brake dampers and reducing the cost.
In 2013, the company developed specifications for high seismic resistance of the O-GRID system ceiling. The seismic resistance of grid system ceilings generally used for office buildings and research facilities have been installed on the assumption that response acceleration may reach 1.0 G. However, the Great East Japan Earthquake had a seismic force that exceeded this assumption, causing extensive damage to ceilings. Therefore, the company integrated air-conditioning equipment into ceilings, giving ceilings and the installed equipment seismic strength that can handle a response acceleration of 2.2 G.
Furthermore, the O-MIC construction method was developed to connect two adjacent mid- to low-rise buildings. It achieves high structural safety at low cost by connecting the seismic isolation buildings in a T-shaped arrangement. The two buildings are partially connected at the floors directly above the seismic isolation layer and the top of the buildings. The different directions of the seismic walls of the two buildings work to enhance structural safety. By adopting this construction method, as the two buildings sway in an integrated manner during an earthquake, expansion joints with a large range of movement are no longer necessary.
Energy Saving: Energy Efficient Buildings
Growing awareness of environmental issues (such as carbon dioxide emissions reduction) prompted the company to develop and establish a range of energy-saving technologies in response.
The main building of Obayashi Corporation's Technology Research Institute, the Techno-Station, makes use of three systems: the passive system, which actively uses natural energy such as daylight and natural ventilation; the active system, which employs efficient facility systems such as a geothermal heat, thermal storage system, and personal air conditioning; and a visualization-based energy management system, which raises occupants' awareness about energy saving. The energy-saving efforts adopted in the building do not require people to endure discomfort; the company works to save energy while maintaining workplace productivity and without compromising comfort. As a result, source ZEB (ZEB with standard primary energy consumption) was achieved in FY2015.3.
In 2012, the company independently developed a highly efficient, space-saving, and low-cost geothermal heat system. Geothermal heat was stipulated as a "source of renewable energy" under the Act on Sophisticated Methods of Energy Supply Structures in 2009, and had been attracting attention amidst growing awareness of energy conservation, power saving, and use of natural energy. A heating and cooling system that uses the temperature of the earth, which is constant throughout the year, consumes less power than the conventional heating and cooling system that uses air cooled heat pumps, and significantly cuts carbon dioxide emissions. Although the geothermal heat system had been in wide usage in Europe and the United States, its use was limited in Japan due to the high initial cost of installation and lack of awareness.
The newly developed geothermal heat pump system realizes high energy efficiency, saves space, and reduces costs through three methods: the high-efficiency borehole method, which uses materials with a high level of thermal conductivity as fillers in the excavated holes for geothermal heat exchange; the vertical ground heat exchanger with retaining wall method, which uses the piles and the space under the foundations of structures to eliminate excavation for geothermal heat utilization and save space; and the horizontal heat exchanger under basement method, which realizes low construction costs. The system was tested as a heat source for the air conditioning of Techno-Station. The test results showed that the system saves a considerable amount energy, reducing power consumption by about 40 percent (compared to the conventional system used in the summer).
(Reference: Special Contents > Obayashi Technology Research Institute)
Master Craftsmanship Contributing to the Preservation of Cultural Properties
Carpenters specializing in the construction of traditional Japanese structures use wooden joints known as kigumi to build Shinto shrines and Buddhist temples. They create structures by taking advantage of the properties of wood and use joints that interlock, without using any metal fittings. This advanced technique has been passed down since the early seventh century, when Horyuji Temple was built. The temple is now the oldest surviving wooden structure in the world.
Construction methods of traditional structures appear to be very different from those of modern large-scale buildings undertaken by general contractors. Obayashi Corporation combines advanced technology and traditional architectural techniques to perform restoration work on traditional structures for improving their earthquake resistance.
For the first time in Japan, the company developed a breakthrough load-bearing panel wall with a coefficient of effective wall-length of more than ten without compromising the design, and named its construction method the "high-performance wooden seismic wall method." "Inserted wooden siding wall" found in many traditional wooden buildings are integrated with the vertical frames near the columns using long dowels and mortises, respectively. The walls have aesthetic appeal as well as high seismic performance, and can be used as a finishing material. This method uses less wall area than conventional methods and can be employed not only for traditional wooden buildings but also for new construction of general wooden buildings and their seismic reinforcement.
In 2011, the company was awarded a contract to renovate the Main Hall of Chusonji Temple, one of the properties comprising the "Cultural Heritage of Hiraizumi," which was inscribed on the World Heritage List in the same year. The high-performance wooden seismic wall method was recognized as a superior seismic technique for traditional wooden buildings in which earthquake resistance, functionality, and aesthetic appeal are essential. The company began seismic retrofitting work and renovations in September 2011 and completed the work in March of the following year. The earthquake resistance of the Main Hall was strengthened while its original external appearance and functions were maintained. The company has also renovated traditional wooden buildings, such as the Important Cultural Property Shokoji Temple in Takaoka, Toyama Prefecture (the great hall, entryway, and 11 other buildings), as well as many other traditional structures, including the Museum of Japanese Art Yamato Bunkakan (2010), Mitsui O.S.K. Lines, Ltd.'s Kobe Branch Building (2012), the Kyoto Minami-za Theatre (2018), and Nanzan University (2020). For this work, the company has received numerous awards, including the BELCA Award (sponsored by the Building and Equipment Long-life Cycle Association).