A 130-Year Heritage Timeline
Establishment and Early Years
1892
January
Yoshigoro Obayashi founds Obayashi Store, a civil engineering and building construction contractor, in Osaka
Receives an order to construct Abe Paper Mill (completed in August 1892)
1898
March
Builds a solid reputation through honest craftsmanship within the first few years of business and receives an order for the Osaka Port Construction project
1901
November
Participates in the construction of facilities for the Fifth National Industrial Exposition as the sole construction company in Osaka nominated to bid and receives an order (completed in April 1903)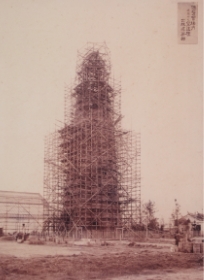 An exposition planned by the Meiji government in order to promote domestic industries. The first exposition was held in 1877 in Ueno Park, Tokyo.
1904
February
Changes store name to Obayashi-gumi
June
Opens the Tokyo Office (upgraded to branch office in April 1906)
1909
July
Establishes Obayashi-gumi as a limited partnership company (the first construction company to incorporate in Japan)
1911
February
Receives an order to construct Tokyo Central Station (now Tokyo Station; completed in 1914), providing an opportunity for Obayashi-gumi, which had been seen as a Kansai-based company, to establish itself as a nationwide enterprise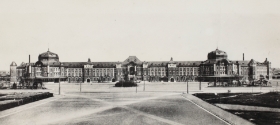 June
Receives an order to construct the Ikoma Zuido Tunnel and nearby rail tracks for the Osaka Electric Tramway (now Kintetsu Railway Co., Ltd.; completed in 1914); excavates the longest tunnel in Japan at the time
1916
January
Yoshigoro Obayashi passes away; Yoshio Obayashi assumes authority over the company's business affairs
1918
December
Obayashi Corporation (stock company) is founded; Yoshio Obayashi is appointed its second president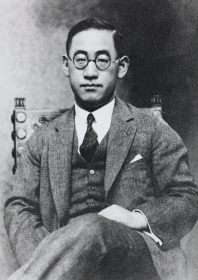 1919
March
Obayashi Corporation (limited partnership company) merges with Obayashi Corporation (stock company)
July
Relocates the Main Office to Kyobashi, Higashi-ku, Osaka (now Kitahama Higashi, Chuo-ku, Osaka), where a new office is built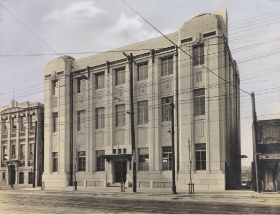 1923
September
Great Kanto Earthquake occurs; Obayashi Corporation engages in disaster recovery and restoration work, including carrying out reinforcement work on the Marunouchi Building
1924
July
Completes the Hanshin Koshien Stadium
December
Introduces the vice president system; Kenshiro Obayashi is appointed as the first vice president
1926
June
Completes a new Main Office building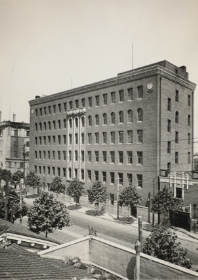 Modernization Policies and World War II
1930
April
Receives an order to rebuild the Main Tower of Osaka Castle (completed in October 1931)
1931
January
Establishes overseas offices in Taipei and Dalian
October
Establishes Naigai Mokuzai Kogei Co., LTD (now Naigai Technos Corporation)
1933
August
Establishes Toyo Hoso Kabushiki Kaisha (now Obayashi Road Corporation)
1935
ー
Publishes the Guidelines for On-site Employees
The Guidelines for On-site Employees is a four-part handbook for administration and accounting, construction, facilities, and electrical work. The underlying principles articulated in the foreword to the Guidelines, the Obayashi Three Pledges of "Quality, Value, and Efficiency," remain the cornerstone of our business to this day.
1941
May
Celebrates the 50th founding anniversary
1943
October
President Yoshio Obayashi passes away
November
Yoshiro Obayashi is appointed the third president at age 25, while drafted in the Japanese Imperial Army
1945
August
Atomic bombs are dropped on Hiroshima and Nagasaki, ending World War II and the Pacific War
From Postwar Recovery to Modernization and Development
1948
January
Completes the Occupation forces' Hamadera Park DH (Dependent Housing); learns modern construction methods through construction projects for the Occupation forces
June
Establishes the Research Department in the Main Office
1950
September
President Yoshiro Obayashi visits the United States (until December) to observe the construction business and strengthen the company's technical capabilities
1951
July
Establishes the Okinawa Construction Department in the Main Office and Tokyo Branch; learns American-style mechanized construction methods through construction projects for the U.S. military in Okinawa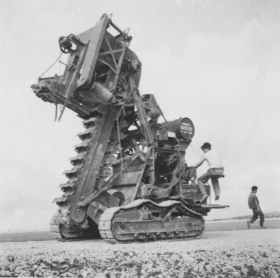 1953
June
Begins construction of the Nukabira Dam Power Generation Development (completed in 1956) to meet postwar demand for electric power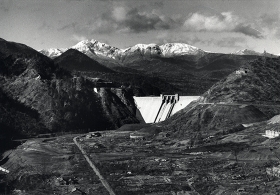 1955
January
Establishes Naniwa Real Estate Corporation (now Obayashi-Shinseiwa Real Estate Corporation)
1958
May
Completes the Kagawa Prefectural Government Office (the original main building designed by Kenzo Tange; now the East Building)
December
Obayashi Corporation is listed on the Osaka Securities Exchange
1959
April
Completes reconstruction of the five-storied pagoda at Shitenno-ji Temple
1960
November
Obayashi Corporation is listed on the Tokyo Stock Exchange
1963
October
Establishes Toyo Building Service Corporation (now Obayashi Facilities Corporation)
1964
April
Opens the first overseas representative office in Bangkok, Thailand, making Obayashi Corporation the first Japanese construction company to have an overseas office
1965
March
Completes the Hotel Empire in Yokohama Dreamland, a pioneering example of skyscraper architecture in Japan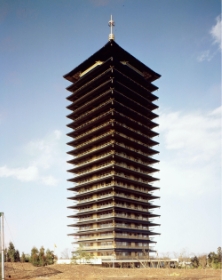 December
Establishes the Technology Research Institute in Kiyose City, Tokyo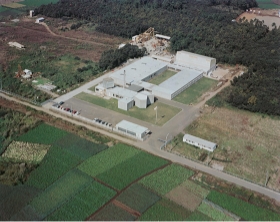 1970
January
Opens the Jakarta representative office
March
Japan World Exposition opens (Senri, Osaka); Obayashi Corporation had been involved in construction of major pavilions, including the USA Pavilion which featured an air-supported cable roof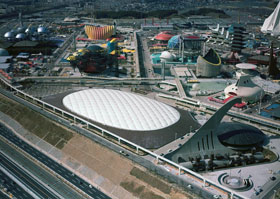 December
The Tokyo Branch is upgraded to the Tokyo Head Office
The Fast Lane to Globalization
1972
January
Establishes PT. Jaya Obayashi through a joint venture with PT. Pembangunan Jaya, a leading company in Indonesia, as Obayashi Corporation's first overseas subsidiary after WWII
1973
January
Completes the Osaka Obayashi Building, the first skyscraper in western Japan
1974
May
Establishes Thai Obayashi Corporation Limited (Bangkok)
1978
March
Establishes James E. Roberts-Obayashi Corporation (subsidiary of Obayashi USA, LLC)
1979
April
Establishes a new data center in the Tokyo Head Office
1980
May
Completes Changi Control Tower (Obayashi Singapore Private)
1985
June
Completes Summitmas I (Jaya Obayashi)
November
Establishes Obayashi Europe BV (Amsterdam)
1986
January
Establishes Oak System Corporation (now Oak Information System Co.)
Overcoming the Long Recession
1989
January
The Showa Emperor (Hirohito) passes away, ushering in the Heisei era
June
Yoshiro Obayashi is appointed Chairman of the Board; Takao Tsumuro is appointed the fourth president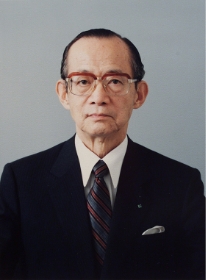 October
E.W. Howell Co., LLC joins the Obayashi Group
1990
April
Formulates the Obayashi Philosophy, Management Stance, Code of Conduct, and new corporate symbol
June
Establishes Taiwan Obayashi Corporation
1991
April
Formulates Obayashi Renaissance 111, a long-term management vision for the 21st century, in celebration of the 100th founding anniversary
November
Completes refurbishment of Bracken House (Europe)
1992
June
Earth Summit is held for the first time (the UN adopts the Rio Declaration on Environment and Development)
July
Formulates the Obayashi Corporation Environmental Protection Action Plan
1993
December
Establishes OC Real Estate Management, LLC (USA)
1994
June
Completes the Kansai International Airport Passenger Terminal Building (North Section)
August
Completes River Side SUMIDA (the entire Obayashi Corporation bachelors' dormitory building was constructed using the Automated Building Construction System (ABCS))
1995
January
Great Hanshin-Awaji Earthquake occurs; Obayashi Corporation engages in disaster recovery and restoration work
December
Completes Siam Commercial Bank Headquarters (Thai Obayashi Corporation Limited)
1997
June
Shinji Mukasa is appointed the fifth president
November
Formulates the Obayashi Corporation Environmental Policy
December
Completes the Tokyo Bay Aqua-Line
1999
January
Relocates the Tokyo Head Office to Shinagawa Intercity (completed in November 1998); consolidates the branch offices spread across Tokyo into this new location
March
Completes Stadium Australia (Sydney Olympic Main Stadium) (Asia-Pacific Regional Headquarters)
All offices and departments in Japan are completely certified under ISO 14001 (environmental management system)
2001
October
Opens the Obayashi History Museum at the Osaka Main Office, where Obayashi Corporation was founded, to commemorate the 110th founding anniversary
2002
July
Establishes Obayashi USA, LLC (Los Angeles)
August
Completes the new Marunouchi Building; Obayashi Corporation is first in the industry to promote 100% recycling of waste material at construction sites (zero emissions)
2003
March
Announces the "Vision of Corporate Excellence"
June
Takeo Obayashi is appointed Chairman of the Board
July
Acquires all shares of Toshiba Air Conditioning Co., Ltd. from Toshiba Corporation and changes the company name to Oak Setsubi Corporation
2004
October
The Mid Niigata prefecture Earthquake in 2004 occurs; Obayashi Corporation engages in disaster recovery and restoration work
2005
February
Kyoto Protocol enters into force, aiming to combat global warming
March
Completes Uni-President International Tower (Taiwan Obayashi)
June
Norio Wakimura is appointed the sixth president
2007
June
Toru Shiraishi is appointed the seventh president
July
Webcor joins the Obayashi Group (USA)
2008
April
Start of the Medium-Term Business Plan '08 (FY2009.3 to FY2013.3)
Establishes the Overseas Business Division (integrating the Overseas Building Construction and Overseas Civil Engineering Construction Divisions)
2010
September
Completes the Techno-Station, the main building of the Technology Research Institute, based on the concept of a state-of-the-art, safe, and environmentally friendly research environment
Expanding into New Business Areas and the Introduction of ESG Management