ESG Management and Technological Innovation—Paving the Way for a Sustainable Future
6
Deepening and Expanding Business Domains (1) Building Construction Business
Pursuing Environmental Symbiosis and Wellness
Through its basic policy on the environment, Obayashi Corporation is declaring its initiatives toward creating a low-carbon, recycling-oriented and nature-symbiotic society, while at the same time promoting ESG management. In line with this policy, the company is pursuing the creation of environmentally symbiotic architecture that offers comfortable living environments by thoroughly implementing measures such as energy saving, making use of renewable energy, reusing resources, and reducing waste material as ways of minimizing environmental impact.
Up to present, the many technologies held by the company—which include technologies for reducing environmental impact, as well as making use of waste and existing materials, extending operational life, and using natural energy—are being applied in the realization of environmentally symbiotic architecture. Examples include Clean-Crete, an environmentally friendly concrete mixture in which the ratio of cement is reduced, thereby lowering carbon dioxide emissions by 60 to 80 percent, O·Mega Wood, a technology that allows the construction of wide wooden structures, along with large cross-sections for mid- and high-rise wooden structures, at a reasonable cost by integrating bolts and other components with LVL (laminated veneer lumber) engineered wood products, and the Soil Meta-Guard construction method, which prevents heavy metals and other contaminants leaching into the soil while costing very little. The company has continued to pour its efforts into the development of new technologies, and in 2017, it developed the Eco-Simulator, a system that creates a simulation of the heating load of green buildings.
In August 2017, the company completed the oak kanda kaji-chou rental office building—an environmentally symbiotic piece of architecture in which these technologies have been implemented. Clean-Crete was used in the construction of the building as a way to significantly reduce carbon dioxide emissions. Under the J-Credit Scheme organized by the Japanese government (Ministry of Economy, Trade and Industry, Ministry of the Environment, and Ministry of Agriculture, Forestry and Fisheries), an amount of carbon dioxide totaling 555 tons (equivalent to the amount absorbed by about 40,000 cedar trees in one year) was certified as "credits." This was the first time in Japan that Credits were certified following the adoption of a concrete technology. Furthermore, the use of the company-developed smart building management system WellnessBOX in this project was the first instance of the system being applied in a project in Japan. Demonstration testing was also carried out. The system uses IoT and other technologies to optimize building management, while also aiming to improve overall "wellness" in terms of the comfort, health, convenience, safety, and security of people working in the building. The company uses the term "Wellness architecture" for this method.
Construction of Japan's First All-Timber High-Rise Fire-Resistant Building
Representative examples of environmentally symbiotic architecture and wellness architecture created by the company include the Techno-Station, the main building of the Technology Research Institute and the company's training facility in Yokohama, which is currently under construction and scheduled for completion in 2022. The training facility will be used toward the sustainable growth of the Obayashi Group, and its eleven-story all-timber and fire-resistant structure is the first in Japan to have all its main structural members—columns, beams, floors, and walls—made of wood. Fire-Resistant Wood Construction Technology: O·Mega Wood(FR) will be used for the structural members. Making use of the experience and expertise accumulated during the construction of the Techno-Station, the company aims to improve wellness through the WellnessBOX system, while also achieving ZEB Ready status (indicating that a building consumes 50 percent or less energy than an ordinary building), earning LEED certification, and becoming WELL-certified (a standard for evaluating building environments and indoor environments for wellness).
(Reference: Special Contents > Obayashi Technology Research Institute)
The company will continue striving to create environmentally symbiotic architecture and wellness architecture with maximum consideration for the environment. Further examples include the construction of the Naigai Technos Main Plant (scheduled for completion in 2023), a large space measuring over 28 meters by 100 meters that was realized using wood (specifically O·Mega Wood), as well as the promotion of the LOOP50 architectural concept, a city that coexists with the forest and makes effective use of Japan's forest resources to achieve both sustainability and an attractive lifestyle.
(Reference: Special Contents > Six Stories > LOOP50)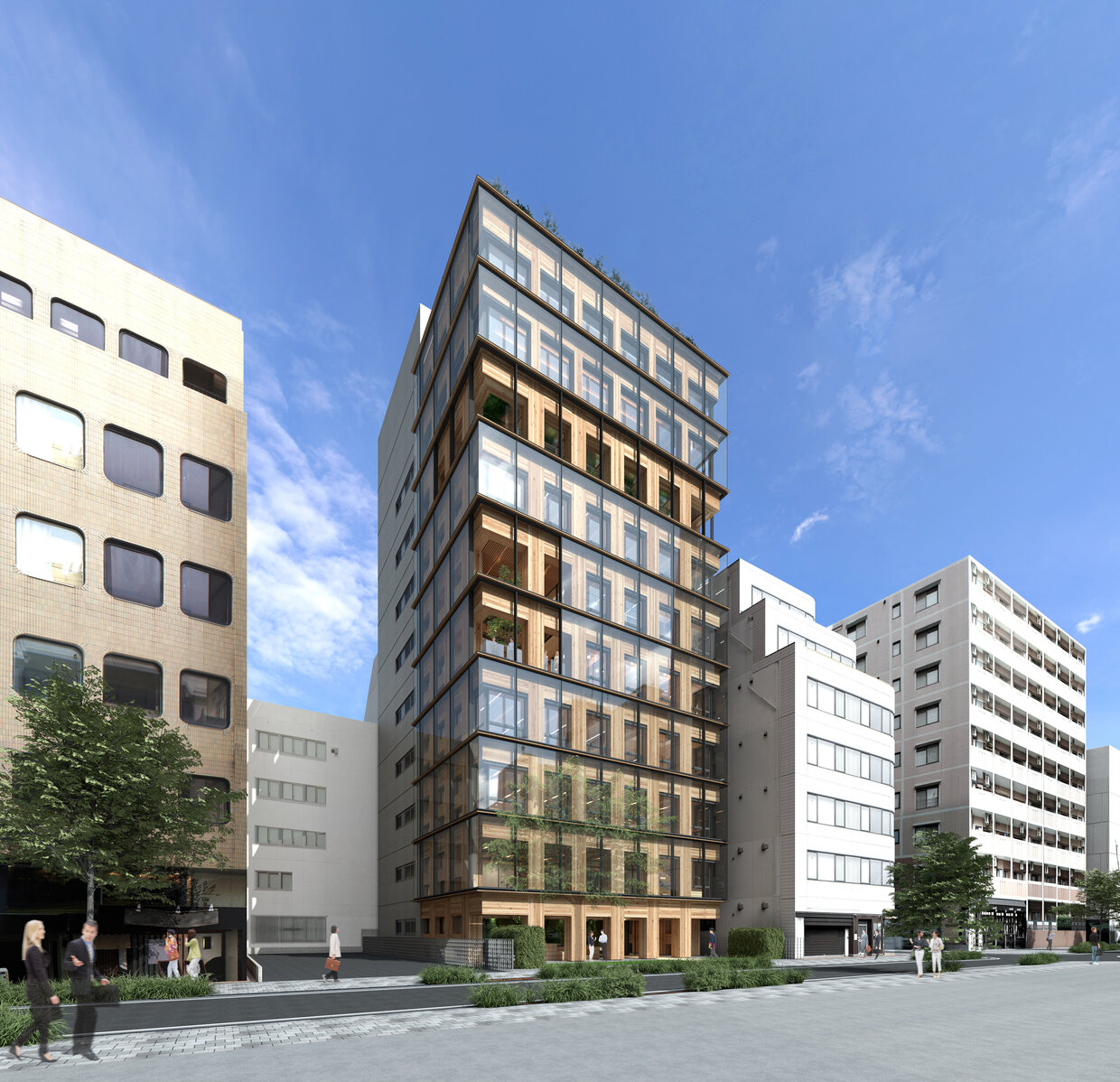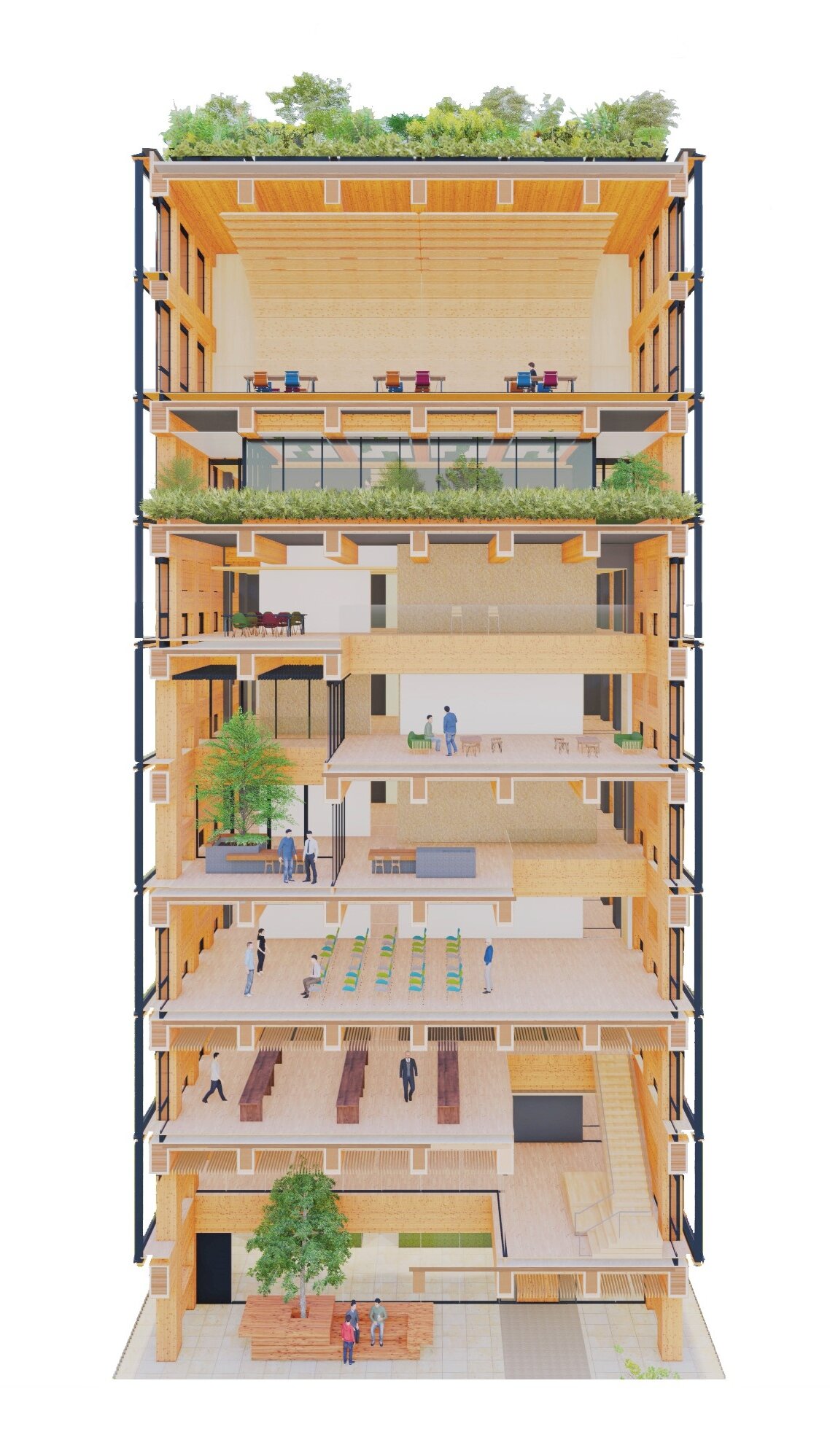 Pursuing Safety, Security, and Quality
Obayashi Corporation considers safety and quality to be the foundation that supports its business. The company has earned the trust of its customers by practicing consistent quality control and continuous quality improvement at all stages—from planning to design, construction, and after-sale service—and by sharing information, implementing training programs, exercising honest craftsmanship, and employing innovative technologies.
As the world undergoes profound social and the economic changes, the quality and performance requirements of buildings and infrastructure have also become more diverse. In this context, the company has worked to develop and improve technologies in pursuit of safety and security, while also paying attention to its goals to solve issues facing society—global environmental issues, frequent natural disasters, and Japan's declining birthrate and aging population—and contribute to public services and the businesses of its customers.
In 2017, the company advanced the field of seismic isolation technology by developing the Seismic Isolation Fender, a shock-absorbing device that reduces the risk of a base-isolated building colliding against the surrounding retaining wall in the event of a large seismic movement exceeding the standards specified by Japan's Building Standards Law. This technology has since been adapted so that it may be applied to an intermediate layer between upper and lower building sections. Going further, in 2018, the company completed a system that analyzed photographic images using AI technology to automatically measure air voids in concrete used for the foundations of base isolation systems, which significantly reduced the time required for pass/fail judgments during these tests.
Also developed in 2017 was a technology that can be applied to ceilings with unique shapes, including curved and inclined ceiling surfaces with an inclination angle of up to 30 degrees, that made it possible to expand the scope of application of the company's existing ceiling system for preventing falls, called Fail-Safe Ceiling. Then in 2019, a ceiling damping mechanism known as the vibration control system with rotary dampers for suspended ceilings (RDS) was developed as a way of systematically improving the seismic resistance of both ceilings and air conditioners. For the first time in Japan, ceiling damping technology was awarded building technology performance evaluation certification by the General Building Research Corporation of Japan.
Furthermore, in 2017, the company created the O·Mega Wood Column Wall, a low-cost wood technology that reduces the amount of earthquake resistant walls required for a structure and limits any constraints on doors, windows, and other openings as much as possible, by manufacturing and using highly rigid and durable columns made from general-purpose wood. A new construction method was also developed that used high-strength cast iron blocks (3Q Diacast) as a variation of the 3Q-Wall earthquake-resistant reinforcement construction method.
When renovating buildings and other structures, the company also carries out seismic reinforcement, BCM (business continuity management), asbestos countermeasures, and other precautions. In 2018, the company developed Renew-face, an external wall refurbishment technology that prevented wall tiles from falling off with a quick application and at a low cost.
Many of the company's projects have been recognized at Awards for Excellent Architecture/Contributors in Seismic Retrofitting held by the Japan Building Disaster Prevention Association, which is a testament to the high level of the company's retrofitting technologies. Past projects that have won awards include the Beethoven Hall at the Musashino Academia Musicae (Japan Building Disaster Prevention Association President's Award) and the Minamiza Theater in Kyoto at the 2019 (9th) Awards, and the Kagawa Prefectural Government Office East Building (Ministry of Land, Infrastructure, Transport and Tourism's Prize), The Hotel Seiryu Kyoto Kiyomizu, and the Hirosaki Museum of Contemporary Art at the 2020 (10th) Awards.
As a way of improving and standardizing design quality, the company transferred design personnel and systems, originally assigned to each branch, to the Architectural Design & Engineering Division in April 2021. Managing projects undertaken by all branches from a central hub allowed greater flexibility in coordinating with staff. The company also decided to consolidate the implementation of quality checks for all branches.
Promoting Proposal-Based Marketing (Medical Solutions)
As the factors impacting medical and welfare services are constantly changing, there is a need to create facilities that can respond to future changes, while also being highly functional and of excellent quality. The Medical Solutions Department under the Marketing Division has been working in collaboration with the Architectural Design & Engineering Division and the Information & Communication Technology Engineering Department under the Engineering Division to strengthen the company's capacity to create proposals for medical facilities as part of its plan to increase contracts for medical and welfare facilities that also incorporated construction-adjacent sectors.
Meanwhile, the rapid spread of COVID-19 in Japan since February 2020 has led to heightened concerns about the reduced functionality of medical facilities. Accordingly, the company upgraded the design of its Pandemic Emergency Centers (PEC), which were temporary hospital ward buildings originally developed in response to the hospital bed shortage in 2009 caused by the spread of the H1N1 influenza virus. New units were also developed specifically for use as wards to treat COVID-19 patients. Five types of units were created to provide the range of functions required by medical facilities to treat each patient's set of symptoms. Among these were PEC II and PEC/ICU, which were developed to meet the current needs of society, that is, to prevent the spread of COVID-19 while realizing a safe and secure medical environment for healthcare staff. The centers can flexibly adjust to clients' needs and the shape of each site while also being quick to set up, with installation possible within only a few weeks of ordering.
In December 2020, construction of the first hospital ward to utilize the PEC series was completed on the grounds of the Ichinomiyanishi Hospital in the city of Ichinomiya, Aichi Prefecture, where it is being used to treat COVID-19 patients. With a total of five temporary hospital wards designed and built as of May 31, 2021, Obayashi Corporation has led the way in the industry.
In addition, the company worked on developing a more compact version of Multi Mist, a mist spraying system for disinfecting indoor environmental surfaces that was patented in 2019, for use in medical facilities. The newly developed Cassette Mist was consequently added to the lineup and released as part of the Multi Mist disinfection series. These products were delivered to a large number of medical facilities for use as an indoor infection prevention measure during the COVID-19 pandemic. PEC and Multi Mist are both technologies that enable medical facilities to continue to provide medical care and treatment as normal. They have been highly evaluated for the roles they serve in BCP (business continuity plans) at medical facilities.
Autonomous Transportation of Materials
A large amount of material and multiple pieces of equipment are repeatedly moved around construction sites on a daily basis. Reducing the amount of labor and manpower required for their transport as such is directly linked to significant increases in productivity.
In 2018, Obayashi Corporation developed a low-floor automated guided vehicle (AGV) that can autonomously transport materials horizontally (within a single floor). Then, in 2020, this evolved into a logistics system that uses forklift-style AGVs capable of autonomously transporting materials vertically through the coordinated control of AGVs and elevators. This has made it possible to autonomously transport materials around a construction site, regardless of the number of floors and even without workers present to operate the elevator.
The technology has been implemented at several sites, including in the construction of KABUTO ONE in Tokyo's Nihonbashi Kabutocho district (construction began in 2019, with the above-ground portion scheduled for completion in August 2021 and the entire building to be completed in 2023), which has freed workers from the daily task of transporting materials, subsequently allowing them to focus on construction work.