ESG Management and Technological Innovation—Paving the Way for a Sustainable Future
Promotion of Open Innovation
In March 2017, Obayashi Corporation established the Obayashi Open Innovation Project Team to promote the development of technologies aimed at improving quality, safety, and productivity. The team utilized open innovation methods to organically link the company's proprietary technologies with innovative knowledge and technologies from outside the company. At the same time, the team worked in collaboration with the American nonprofit scientific research institute SRI International to start developing Mixed Reality (MR) technology for next-generation production systems, which would lead to significant labor savings in the areas of quality control and site management.
Silicon Valley Ventures & Laboratory (SVVL) was set up in October of that year as the team's satellite office in America's Silicon Valley, the global hub for technological innovation. The lab would be used to seek out and collaborate with research institutions and startups with cutting-edge technologies. Obayashi Corporation was the first Japanese construction company to establish a base for research and development in Silicon Valley.
In December the team launched a pitch event called "Obayashi Challenge 2017." The event aimed to solicit and select promising solutions from local startups and research institutions by presenting them with four challenges for the construction industry that needed to be solved, namely 1) autonomous design using AI, 2) automating the transportation of materials within construction sites in light of shrinking workforces, 3) providing added value to building occupants using IoT and AI, and 4) transferring and navigating construction site-specific knowledge and expertise using IoT and AI. The team has continued to work on other joint development projects to build next-generation production systems, collaborating with several people whose proposals were rated highly by upper management and engineers at Obayashi Corporation and its U.S. group subsidiaries.
In FY2019.3, the team completed their first achievement: the next-generation Digital-Automated Inspection System as a way of dramatically improving construction site productivity. The system was jointly developed with the research institute SRI. Behind the development of this system was the concept of a digital technology that could take the place of visual monitoring by a site foreman. A combination of highly precise simultaneous auto localization and measurement technologies using multiple cameras and sensor-equipped devices with point cloud data generation and BIM linking functions, along with Mixed Reality (MR) technology, allows the system to detect rebar properties (number of rebars, space between rebars, diameter, length, and quality). By comparing these properties to the BIM design model and other information, the system can automatically recognize whether rebars are assembled correctly. In May 2018, the team demonstrated the applicability of the next-generation Digital-Automated (Rebar) Inspection System in real-life rebar inspection work at construction sites in Japan. They are now working toward a full-scale rollout of the system.
Automating the Construction Process: Dramatic Improvements in Productivity and Safety
The robotic automation of construction processes is drawing attention as an effective solution in face of a reduction in construction workers due to declining birthrates and aging populations, as well as work style reforms that call for increased productivity and safety. In April 2019, the Mechanical & Electrical Department was reorganized into the Construction Robotics Division. The division set forth new goals that went beyond the scope of its current operations. The first goal was to swiftly deploy and expand developed machine technologies on site, the second was to achieve breakthroughs in autonomous construction through the urgent development and introduction of autonomous construction machinery, and the third was to create new business models and acquire and expand revenue sources.
The division's specific roadmap stated that they will achieve remote control technologies that enable machines to be operated remotely without a human operator on board by 2020, and in addition, establish automation technologies that enable machines to operate as programmed without human intervention by 2022. Furthermore, a final goal was set to create fully autonomous technologies in 2029 or later, which will enable machines to be operated based on decisions made by AI. The Construction Robotics Division is working hand in hand with both the Building Construction and Civil Engineering Divisions to realize a form of fully autonomous construction using IoT, AI, and other technologies that is safe, secure, and efficient.
One of these remote control technologies that the division has developed is the SURROGATE General-Purpose Remote Control Device, which is already being used in the field. The SURROGATE device attaches to operating levers and other parts of construction machinery, thereby making the unmanned operation of machinery possible from a remote location at a low cost. After the 2016 Kumamoto Earthquake, which damaged many parts of Kumamoto Castle, SURROGATE was used to retrieve stone materials at the restoration site of the castle's collapsed stone walls. The device was a safety measure for workers, as it allowed works to proceed without the need for the workers to enter dangerous work sites situated directly beneath the collapsed stone walls. It also left no damage or staining on the stone material, as the castle is designated a Cultural Property of Japan. As a result, the standard delivery period of one and a half months was able to be shortened by about 10 days.
One of the shortcomings of current remote control devices is the lag between the operation by a remote operator and the playback of video footage from on-site cameras, subsequently reducing work efficiency. As a solution, the company introduced 5G technology to enable high-speed, large-capacity transmission for more advanced remote operations. In February 2020, the company successfully conducted field testing on general road construction in collaboration with KDDI Corporation and NEC Corporation. The testing involved using 5G to simultaneously link the remote operation of three construction machines (hydraulic excavator, crawler carrier, and bulldozer) and a vibratory roller equipped with a self-driving system, as well as forward and analyze construction management data necessary for the job in real time.
As for automation technologies, the company is working on the automation of tower cranes for dam construction, along with the development of an automated process for treating concrete joint surfaces using green cutting machines. Operating tower cranes used in dam construction requires a high level of skill due to the unique characteristics of the cranes. However, there is also a need for labor saving due to the aging of workers and shrinking workforce. During a field test conducted at the Kawakami Dam, the company was successful in handling stabilization and automating delicate alignment works, with a reduction in reliance on operators also squarely in its sights.
With regard to fully autonomous technologies, the company jointly developed an autonomous backhoe operating system with NEC Corporation and TAIYU Co., Ltd. in July 2019, with steady progress being made in putting it to practical use. The system replaces human operators with AI in projects such as tunnel excavation and underground excavation for large buildings. The AI determines the most efficient points for loading the largest amount of soil, with the system operating and controlling the backhoe accordingly. A high level of productivity and safety equivalent to that of highly skilled workers is made possible by the system's highly precise level of control.
In the future, the company aims to profit from next-generation construction production systems such as these through external sales, while also helping solve issues with shortages of skilled workers in the construction industry.
(Reference: Special Contents > Six Stories > ODICT)
Utilizing AI and Robotics and Revolutionizing ICT
Toward its goal of realizing Obayashi Corporation's future vision in which Obayashi's technology makes it an industry leader, the Technology Division aims to strengthen the company's competitive edge in both the domestic and global markets. To this end, it plans to improve quality and productivity, reduce costs, and upgrade working environments by carrying out advanced technical development using technologies such as AI and robotics.
To illustrate how ICT is being utilized, construction drawings, 3D design models such as BIM, and electrical equipment specifications and other information are carried around at all times on tablet devices so that the data can be constantly updated to reflect work progress and shared between construction sites, clients, and architects via the cloud. Mixed Reality (MR), a technology that merges 3D design models of buildings and structures with images of actual landscapes, is also being used as a tool to communicate with clients. Topographical surveying using camera-equipped drones and progress monitoring using location information from satellites have also been implemented at sites, allowing a more precise level of quality control than before and leading to improvements in productivity and shorter delivery times.
Also under development is a type of AI for recognizing construction progress from photos. The AI first "learns" images of construction materials in advance via deep learning, then estimates what materials are being used from photos of sites under construction, automatically recognizing the progress of construction from a breakdown of these materials. This technology can be used to reduce the amount of labor required for site checks; for example, by eliminating the need for a construction manager to visit each unit of a new-build housing complex construction project to check work progress. Similarly, an AI-based system that evaluates the working face (excavation surface) of mountain tunnels has been developed. The technology has been fully implemented at tunnel sites across Japan since April 2019.
Moreover, the company is making progress in developing unmanned construction technologies that use robotics to create safer working environments. For example, swift recovery after sediment disasters requires a survey of the deposition and composition of the collapsed sediment, which is something that cannot be done from the air. The remote-controlled Multi-Crawler Automated Survey Robot has enabled on-site surveys to be carried out without technicians and other workers having to enter hazardous areas. The robot is linked to 3D video images and the upper body movements of an operator, allowing spaces to be perceived at eye level. It can traverse gradients, uneven surfaces, and soft ground, all difficult types of terrain for conventional construction machinery. Using robots to conduct such surveys prevents man-made secondary disasters, while also making it possible to come up with the most appropriate recovery measures and quickly draft plans for safe construction.
Initiatives to Realize Offshore Wind Power
Since launching its renewable energy business in 2012, Obayashi Corporation has begun operating 30 power generation facilities, which collectively generate an amount of electricity equivalent to 191 percent of the electricity used by the company (as of March 2021). Of these facilities, 28 generate power from solar energy. Since solar power generation is dependent on sunlight hours, it cannot be relied upon to provide a steady supply as a stand-alone power source. On the other hand, wind power offers more stability and a higher level of efficiency in energy conversion than solar power. It was for these reasons that the company decided to work on developing wind power generation technologies.
The company has proven itself in this sector with the completion of seven onshore wind turbine construction projects. Wind Lift, equipment that lifts up wind turbines to assemble them without the use of heavy hydraulic cranes. Wind turbines have been increasing in size year after year, and the device was developed in response, based on the expertise the company acquired through the previous seven projects. In 2017, the Wind Lift technology was used in the construction of wind turbines (three 2-MW turbines) along the coast of the town of Mitane, Akita Prefecture, part of the Mitanehamada Wind Power Station that went into operation in November that same year. Through this project, the company has been contributing to the development of green energy generated on land.
Surrounded by the sea, Japan's limited land space restricts where wind power stations can be built. On the other hand, the country has a long coastline, and moreover, its offshore wind power generation facilities allow more stability and produce a higher volume of power than those on land. In 2016, the company initiated a feasibility study concerning the development of an offshore wind power generation business, and two years later, it decided to build a Self Elevating Platform (SEP) (scheduled for completion in 2023).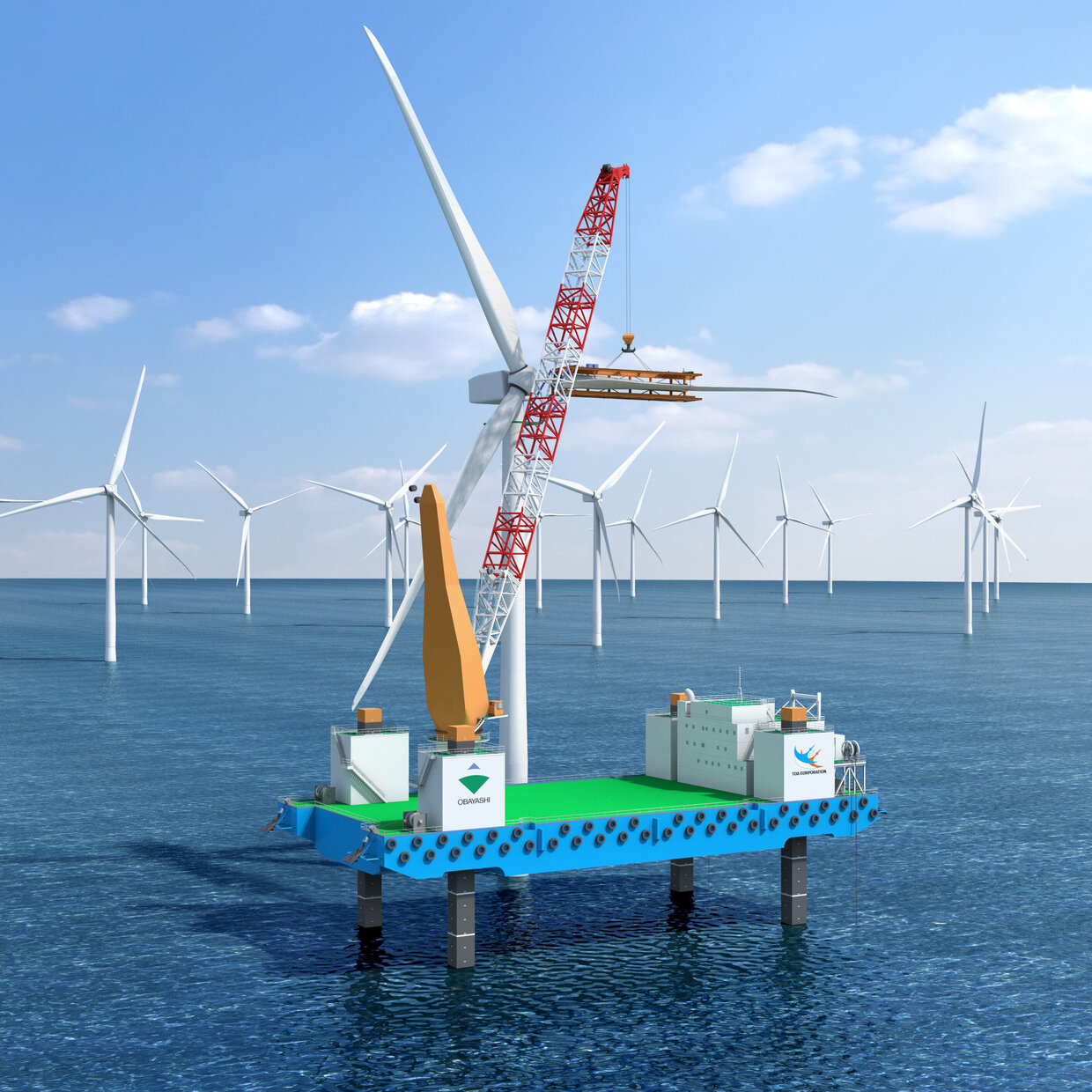 Offshore wind power is a key factor in Japan's energy mix and achieving decarbonization targets. Due to the large scale of the business and extensive range of related industries, offshore wind power is also expected to help drive Japanese industry into the future. The company is undertaking technical research as a way of helping support the expansion of offshore wind power farm implementation.