Acceptance of Order from Singapore Power for Design and Construction of East-West Transmission Cable Tunnel Contract
Tokyo, September 27, 2012 - Obayashi Corporation has been awarded one of the six contracts from SP PowerAssets Limited (as a trustee-manager of SP Cross Island Tunnel Trust), a subsidiary of Singapore Power in Singapore for the construction of a S$2 billion next-generation power infrastructure project in Singapore.
In total, two cross-island cable tunnels will be constructed 60 metres underground. The length of North-South Tunnels is 18.5km and that of East-West Tunnels is 16.5km. The completion of the tunnels is expected to be in 2018.
Among the contractors appointed is Obayashi Corporation. Obayashi's contract is to design and construct cable tunnel and other E&M works for the East-West 1 Section i.e. the Ayer Rajah - Holland Section of the East-West Tunnel.
These tunnels are designed to overcome the existing congestion of underground space and utility services in Singapore. They will facilitate faster and more efficient maintenance and replacement of cables, thereby reducing the frequency of road-digging works and thus minimising in inconvenience to the public in the long run.
Outline of project
Contract Name: Design and Construction of East-West Transmission Cable Tunnel Contract EW1
Construction Place: Singapore
Client: SP PowerAssets Limited
Contract Sum: 227.7 million Singapore Dollars
Construction Period: Commencement on 8 Oct 2012 and Completion on 6 Nov 2016
Construction Work Summary: Tunnel Construction (Length 1.4km among Ayer Rajah - North Buona Vista and Length 2.6km among North Buona Vista and Holland), 3 Shafts at Ayer Rajah, North Buona Vista and Holland, Utility Building above Ground and E&M Works (Electricity, Light and Ventilation)
(Tunnel Route Map)
(Image)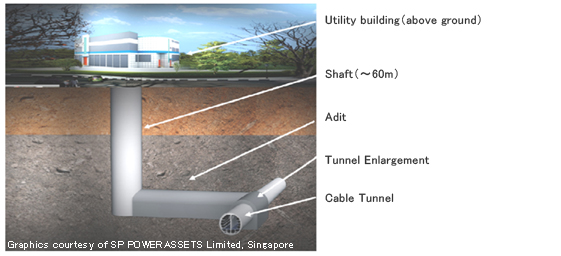 (Cross Section of Cable Tunnel)