The Obayashi Group has established the Intellectual Property Policy to realize honest craftsmanship with superior technology.
Technical Research Institute
Obayashi develops a wide range of construction technology with the aim of meeting the needs of society and its customers.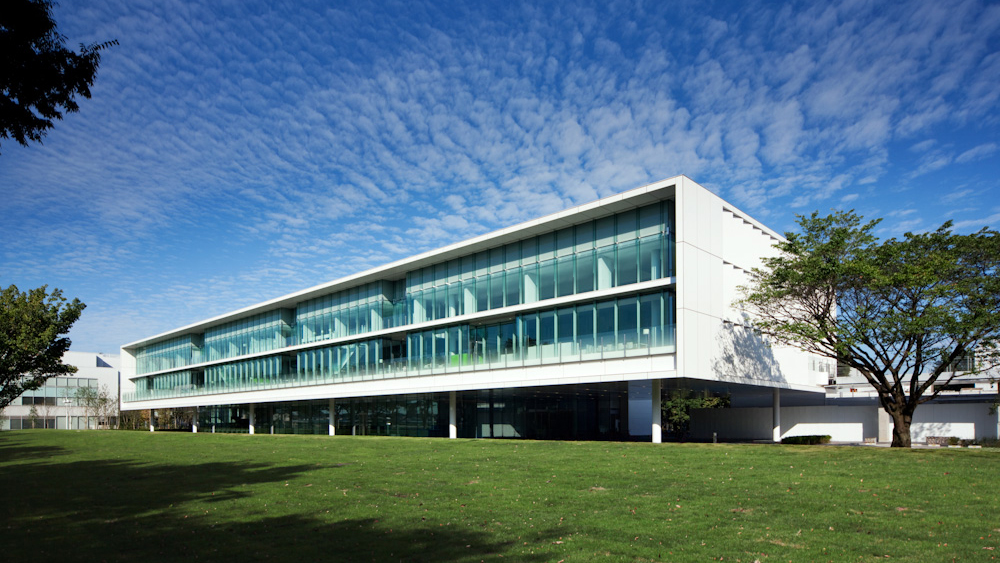 Main Building of Obayashi Technical Research Institute to Reduce CO2 Emissions by 55%
The new main building of the Obayashi Technical Research Institute, Techno-station, was completed in September 2010, concentrating all of our environmental technologies. CO2 emissions will be reduced by 55% through aggressive use of natural energy and utilization of next-generation facilities. 
Moreover, We will use some of the money saved in lighting and heating costs due to energy conservation to purchase carbon credits equivalent to the remaining 45%, thereby effectively offsetting total CO2 emissions. The Techno-station will be the first Japanese research facility to achieve this carbon-neutral status.
Facilities for Research and Experiments Matching Wide-Ranging Needs
A new multipurpose laboratory was also completed along with Techno-station. This new laboratory is equipped with multipurpose laboratory spaces for conducting a wide range of experiments, as well as a large-scale shaking table capable of replicating the dynamic ground movement in an earthquake that causes such phenomenon as ground liquefaction.
At the same time, We converted the former main building of our research institute into a materials and chemical engineering laboratory. The building is now being used for research and development of land and water purification technologies for protecting and regenerating the environment, and developing safe and high-quality construction methods optimizing the characteristics of various building materials.
The new multipurpose laboratory facility

Materials and chemical engineering laboratory
Completion of Multipurpose Laboratory 2, a New Experimental Facility
We are upgrading our technological research facilities to test and verify safe, secure and environmentally friendly technologies and take on the challenge of continuous innovations for giving rise to new technologies.
In 2010, we completed construction of our Multipurpose Laboratory, an experimental facility, and Techno Station, the main building on campus at the Obayashi Technical Research Institute, where many advanced technologies have been incorporated. Then, in May 2014, we completed construction of Multipurpose Laboratory 2. Multipurpose Laboratory 2 is an experimental facility for research in green innovation (CO2 emissions reduction, resource conservation, and renewable energy), and along the theme of globalization.
Since its founding in 1965, the Obayashi Technical Research Institute has been home to many cutting-edge facilities, including one of the largest tri-axial shaking tables in Japan, a world-class geotechnical centrifuge system, and Japan's most advanced fire protection engineering laboratory. The institution not only promotes research and development of technologies for improving safety and peace of mind but also technologies for reducing the environmental impact and completion time of construction.
Tri-axial shaking table for developing anti-seismic technologies

Geotechnical centrifuge system

Fire protection engineering laboratory