Environment
We foster a sustainable society with a low carbon footprint, a commitment to recycling,
and a deep respect for the natural world.
Environmental Policy
In order to realize a sustainable society, we will work to create a low-carbon, recycling and nature-symbiotic society throughout the supply chain.
Obayashi Environmental Policy
Principles
As a good corporate citizen, Obayashi considers active efforts and continuous improvement of environmental issues to be integral components of business management. We envision our future society, seeking to contribute to a realization of sustainable society.
Policies
1 We strive to protect the environment, acting in full compliance with all environmental statutes and ordinances, communicating with local communities.
2 We gather our knowledge for realization of resilient society that integrates the elements of low-carbon, recycling-oriented and respecting the natural world.
3 We use the expertise we have acquired through our environmental protection activities, developing even more effective technologies and implementing new businesses to realize sustainable society.
We sincerely focus on our business, with our affiliates, subcontractors and suppliers, holding targets and vision to realize a sustainable society.
Established March 1, 2018
President Kenji Hasuwa
Environmental Management
Environment Management System (EMS)
We have developed and are operating a company-wide environmental management system (EMS). By 1999, we had obtained ISO 14001 certification for our EMS at all sites.
See the website of the Japan Testing Center for Construction Materials (JTCCM) for the status of ISO 14001 certification. (Available only in Japanese)
EMS Organizational Structure
We have a CSR Committee chaired by the president, and below that, an Environmental Management Expert Committee chaired by the executive officer responsible for the environment. The latter sets basic policies and measures on Obayashi's environmental initiatives in general. It tracks and evaluates results of environmental initiatives under the EMS, then sets targets for subsequent fiscal years and reconsiders our activities as it aims for continual improvement. We continuously improve our EMS by appraising and evaluating the achievements of environmental activities each year, and updating the objectives and targets for activities in the years that follow.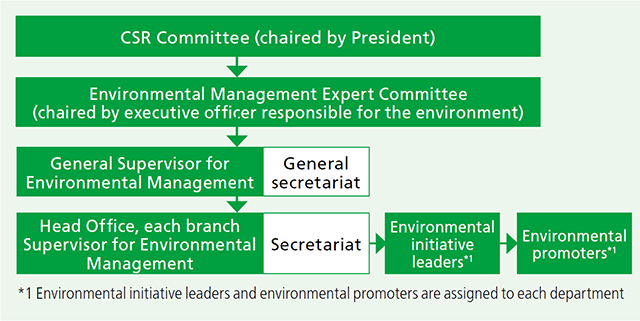 Compliance with Environmental Laws and Regulations
A construction business must comply with numerous environmental laws and regulations. We work as an organization to sort through and confirm all the environmental laws and regulations applying to construction work and respond promptly and appropriately. An environmental law and regulation supervisor is appointed at bases all over Japan (Head Office, main offices, and branches) to respond to inquiries from construction works offices and the like. This person scrutinizes the key content and makes sure it gets deployed horizontally. Each year we provide e-learning for all employees and group training for those in charge of environmental laws and regulations. In these ways, we work to ensure everyone knows about and has a higher awareness of the laws and regulations.
Environmental Education and Awards
We provide an entire curriculum of training segmented by career and job category to enhance the effectiveness of our environmental activities. The curriculum is also vital in preventing serious mishaps arising from insufficiently shared knowledge and awareness of our important environmental objectives among employees. The Obayashi Environmental Award program commends environmental activities of noteworthy achievement, or that serve as examples for the entire Group. The award program is meant to raise employee awareness in environmental fields, and bolster environmental initiatives in business operations.
Supply Chain Initiatives
Supply chain initiatives are also an indispensable part of promoting environmental consideration in our business activities. We established a set of Obayashi Group CSR Procurement Guidelines for all suppliers in June 2011 to steadily further civic responsibilities in the Group's supply chain. Also, we have green-procurement guidelines in place for office supplies and construction materials and machinery, and are promoting the procurement of technologies, construction methods and products with low environmental impact in all business activities.
Environmental Initiatives
Communications
We implement comments and requests from stakeholders into our business activities in order to respond to expectation from the society.
Charters, Proposals and Other External Guidelines that we Follow and Support
*1 Available only in Japanese
Main Environmental Organizations in which we Participate (As of FY2018.3)
Sustainability Science Consortium (SSC)
Japan Climate Leaders' Partnership (JCLP)
Green Energy Partnership
Network for Sustainability Communication (NSC)
Keidanren Committee on Nature Conservation
Yamashina Institute for Ornithology
Japan Smart Community Alliance (JSCA)
Minato eco-conscious consortium (mecc)
Platinum Society study Group
Green Building Japan (GBJ)
Promotion Association for Smart Society Technology
Other Initiatives
Applied and joined in Science Based Targets (SBT) and supply chain emissions calculation for the "Carbon Pricing Study Group" sponsored by the Ministry of the Environment.
Promote projects aimed at building a recycling-oriented society in accordance with the "Reduce, Reuse, and Recycle Promotion Council"
Global Warming Report
It is an obligation in Tokyo to submit a report including status of energy saving initiatives of each office, when energy emission, such as electricity, gas, fuel, of total offices in Tokyo exceeds 3,000kl per year converted to crude oil. We submit our report to the Tokyo Metropolitan Government Bureau of Environment due to this system, and it can be found on their website.
Environmental Data
Part of the data has obtained a third-party guarantee from Japan Quality Assurance Organization.