Health and Safety
Guided by our Health and Safety Principles, we carry out daily health and safety activities
as part of our commitment to preserving the health and safety of workers and providing a comfortable work environment.
Health and Safety Principles
Ensure the safety and health of all workers at construction sites and create comfortable workplace environments
The Obayashi Philosophy assert that we value everyone we come in contact with in our business. We therefore make the safety of our construction sites, where so many people work, a top priority. We also practice health and safety day to day under our Health and Safety Principles.
Health and Safety Policies
1 Comply with the Industrial Safety and Health Act, other relevant laws, and Obayashi Corporation's internal rules
2 Appropriately implement and use Obayashi's Occupational Health and Safety Management System
3 Help improve the independent health and safety management efforts of suppliers
Occupational Health and Safety Management System
Our Occupational Health and Safety Management System is designed not only to achieve zero workplace accidents, but eliminate the risk of such accidents from our workplaces. With this system, We set policies and targets each year, and works through a Plan, Do, Check, Action (PDCA) cycle to eliminate or reduce the potential risks for workplace accidents. We also share expertise and take measures to foster an organizational culture that prioritizes safety.
Occupational Health and Safety Management System

Health and Safety Management Framework
Initiatives for the Prevention of Workplace Accidents
Targets and Priority Measures for FY 2019.3
Targets and Priority Measures
We made "zero fatal accidents" one of our targets for the fiscal year ended March 31, 2018, carrying out the following priority measures.
1 Prevent occupational accidents under the leadership of the project manager
2 Plan and execute appropriate work procedure
3 Prevent machinery accidents
4 Prevent accidents resulting in falls
5 Increase health and safety management capabilities
6 Promote creation of healthy work environments
7 Prevent damage to third-parties due to accidents
Three Major Initiatives
To prevent faults in safety equipment and unsafe behavior on construction sites, we are rigorously implementing the following measures.
Initiative for Enhancing On-Site Inspections
Our employees and supplier supervisors check directly on the implementation of safety measures at worksites. Any faults are corrected on the spot.
Initiative to Encourage Calling
Under our construction site rules, workers who see someone doing something unsafe are required to verbally caution them. We strive to make an environment where people can call out each other freely.
ATKY Initiative
Our employees and others working on construction sites actively employ pointing and calling to ensure safety, inspection, and check (in Japanese, anzen, tenken, kakunin or "ATK") and hazard prediction(kiken yochi or "KY"). This method enables them to identify hazards and harmful factors before starting an operation and take proper countermeasures.
Sharing Information of accidents and preventing recurrence
We provide training for employees and suppliers to prevent workplace accidents, raise health and safety awareness, and deepen understanding of safety-related laws and regulations.
E-Learings
All employees working at construction sites take e-learning courses on a variety of themes several times a year. In FY2018.3, we gave training on the theme of "Learning from past accidents."
Safety Patrols
All branches conduct regular patrols of construction sites to verify health and safety management conditions. Apart from daily patrols, the central officer in charge of health and safety and secondary officer in charge conduct special patrols four times a year. We also run patrols to verify dust hazard prevention efforts at tunnel construction sites and so forth.
Safety Trainings for suppliers
Health and Safety Information
Construction personnel, including those of our suppliers, receive a publication called Safety Information each month. Here we share information about safety topics and health and safety law and regulation changes. The goal is to thoroughly familiarize construction personnel with safety concerns.
We also produce digests that concisely summarize health and safety laws and regulations and Obayashi's internal standards. Workers carry these along and use them when creating construction plans and performing day-to-day construction site patrols. Such information is also posted to our intranet and distributed via tablets, as well as shared with suppliers.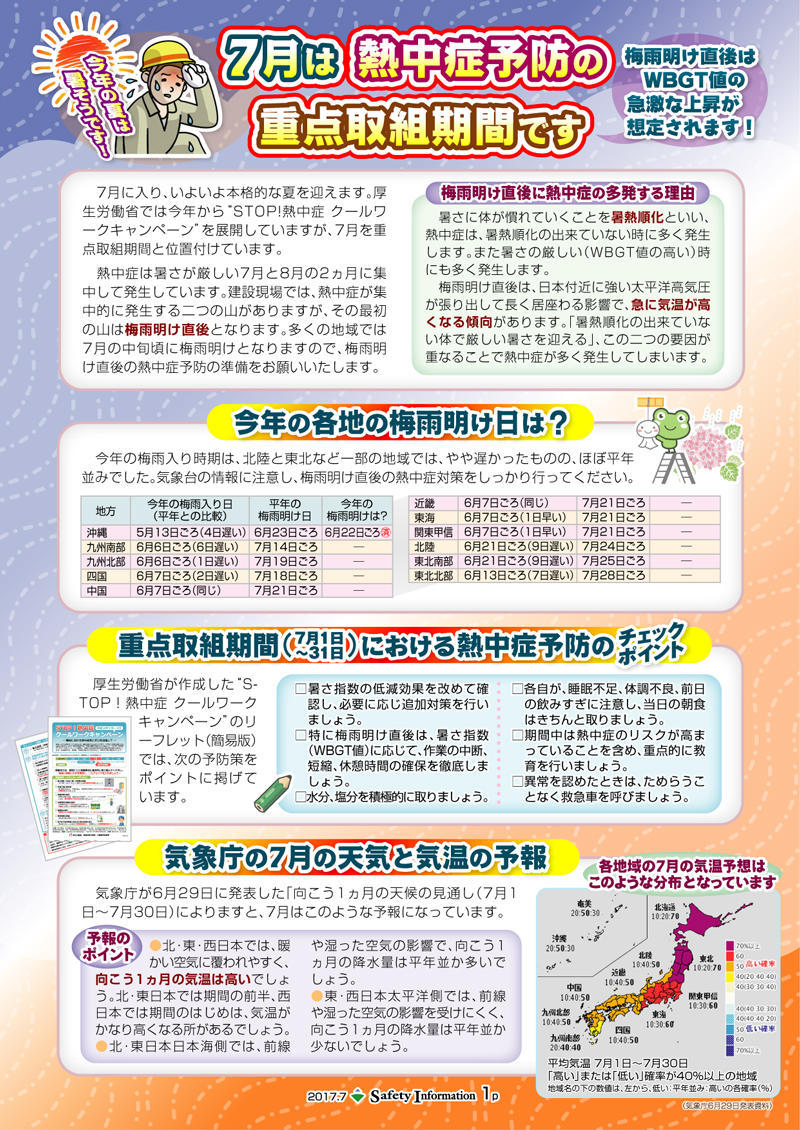 Slinging Skills Improvement Training
Slinging is the operation of transporting a suspended load by attaching the hook of a crane or other lifting machine to the load using a hoisting attachment such as a wire rope. We conduct training for suppliers with sling operation qualifications, aiming to prevent workplace accidents caused by sling work and to improve workers' skills.
Dispatch Training
Each construction site has its own working environment and methods. When skilled construction workers are dispatched to a construction site for the first time, the supplier conducts mental preparation for safe operations as well as health and safety measures and accident prevention activities beforehand.
Mock Construction Site Training
We created a mock construction site at the Osaka Machinery Plant along with equipment for experiencing hazardous work. Here, we give hands-on safety training for young Obayashi employees and our suppliers' skilled workers. The point of experience-based training is to enhance trainees' sensitivity to danger. Ultimately, this will raise their safety awareness and safety management skills.
Obayashi accident prevention association holds several workshops to learn safety rules.

A scene from slinging training
Training DVDs
We cooperate with the Obayashi Accident Prevention Association, which is organized by our suppliers. Together we created an educational DVD on preventing accidents caused by human factors and accidents with loading truck cranes.
Training DVDs

DVDs are used in training dispatch workers at construction sites.
Health and Safety Data
Occupational Accidents (Including skilled workers on construction sites)
FY2014.3
FY2015.3
FY2016.3
FY2017.3
FY2018.3
Accident frequency rate

(*1)

0.71
0.74
0.67
0.47
0.52
Severity rate

(*2)

0.24
0.18
0.11
0.25
0.11
Accidents resulting in four or more lost workdays (cases)
79
85
68
47
50
*1 The number of work-related injuries or deaths recorded for every 1 million work hours
*2 The number of workdays lost to workplace accidents recorded for every 1,000 work hours