Human Resources
Corporate activities are supported by each and every employee.
We ensure a work environmnet where all employees and workers can exercise their unique character and talents and feel motivated.
Respect for Human Rights
Under Obayashi Basic Principles, respecting human rights is an important issue within our social responsibilities, and these policies are put into a written form:
Obayashi Statement on Human Rights
In the spirit of the Universal Declaration on Human Rights, Obayashi respects fundamental human rights and does not discriminate based on race, gender, nationality, religion, social origin, disability or other distinction.
In support of this principle, We will undertake education and awareness raising efforts to instill appropriate values and understanding regarding human rights in all employees and people associated with our operations to ensure they do not engage in any form of discrimination.
Further, our overseas operations will be conducted in compliance with international rules, including International Labor Organization (ILO) agreements. In addition to completely prohibiting the use of forced labor or child labor, We will operate in compliance with all applicable laws and regulations in the nations and regions in which we operate.
Established June 1, 2011
To promote the recognition of human rights in keeping with our statement, a Human Rights Awareness Promotion Committee chaired by the executive officer responsible for human resources meets regularly. All employees need to ensure they do not engage in any form of discrimination and have a correct sense and awareness of human rights. To this end, we will undertake education on issues such as racism, sexual harassment, and international human rights.
Group companies also conduct training tailored to their business activities and regional characteristics, based on the policies determined by the Human Rights Awareness Promotion Committee.
Participation in the United Nations Global Compact
We joined the United Nations Global Compact in August 2013, supporting the ten principles relating to the areas of human rights, labour, environment, and anti-corruption. We will promote its business activities with a high sense of responsibility and global perspective in order to contribute to the creation of a sustainable world.
Diversity of Human Resources
We respect individuals based on the thoughts that the power of each and every employee supports the Company. Therefore, no discrimination based on capabilities and execution of duties, such as race, gender, nationality, etc. is conducted in any aspect of hiring, promotions, etc. We are promoting the creation of working environment where all of our associates can exercise their unique talents.
Fair Personnel Evaluation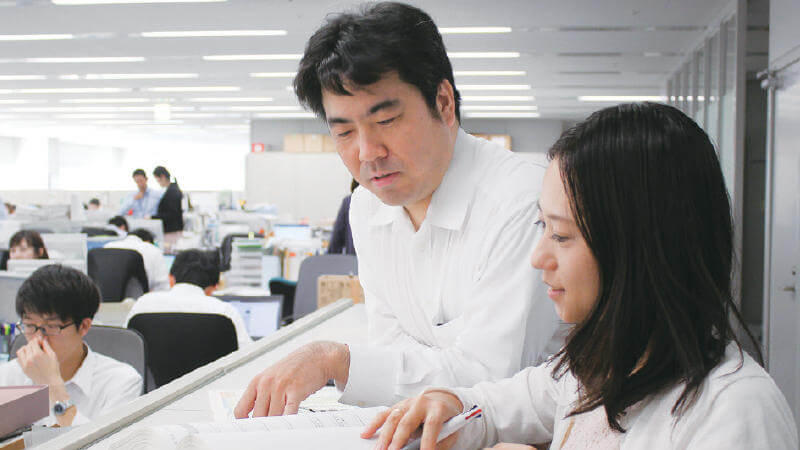 The foundation of our personnel management system is fair pay and benefits based on fair personnel evaluations. Personnel evaluations are conducted every six months, with managers and subordinates discussing targets and achievements in detail. To ensure transparency and acceptance of the personnel evaluations, the system allows employees to check their final evaluations.Our personnel system makes no distinction between men and women with regard to the assignment of roles, promotions, and compensation and benefits. Our employees actively demonstrate their individual capabilities.
Rehiring of Retirees
To pass on our DNA, "Technology" and "Honest craftmanship" inherited from our foundation, we have a system to provide ongoing employment opportunities for people after they have reached the mandatory retirement age of 60.
Promoting Employment of People with Disabilities
We promote employment of people with disabilities to provide them with greater work opportunities.
Our special subsidiary Oak Friendly Service Corporation, established in 2001, employs persons with intellectual and mental disabilities. Employees work at 11 offices around Japan. Job coaches with specialized knowledge guide employees, who perform jobs that take account of the nature of their disability. The aim is to provide opportunities for independence and a place in society.
We also periodically host students from special-needs schools as workplace trainees, thereby supporting education for social inclusion.