LEED®-CS Platinum Award for a Complex constructed by Thai Obayashi
Obayashi Group promotes LEED certification proactively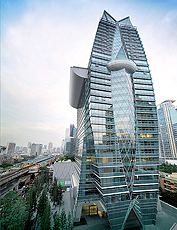 Park Ventures, the building complex constructed by Thai Obayashi, a subsidiary of Obayashi Corporation, has been awarded LEED® (Leadership in Energy & Environmental Design) Platinum for Core & Shell* by the USGBC (U.S. Green Building Council).
LEED evaluates and grades buildings with superior energy efficiency and sustainability in terms of planning , design, construction, operation and maintenance. The categories of the evaluation point of LEED are "Sustainable Sites", "Water Efficiency", "Energy and Atmosphere", "Material and Resources", "Indoor Environmental Quality", "Innovation ", and "Regional Priority Credits". With environmental issues being a focus point in construction, more than 130 countries around the world are currently working to achieve LEED certification.
During the construction of Park Ventures, the contractor, Thai Obayashi, contributed to the highest award of LEED certification with a variety of environment consideration such as construction waste and recycle management, procurement of environment-friendly materials, and proving comfortable workplaces during construction.
Collaboration with Webcor for LEED
Obayashi Group owns Webcor Builders, a U.S. subsidiary, who has more than 120 LEED-APs (LEED Accredited Professional).
Obayashi Corporation is currently learning about LEED and development of LEED-AP from Webcor, who has a plenty of experience as LEED consultants. Utilizing the asset of the subsidiary, Obayashi is working to achieve LEED certification in all fields, including planning, designing, and construction.
Obayashi Group globally contributes to improved environmental design and construction while maintaining Client's business and satisfaction.
* Core & Shell: It can be used for projects where the developer controls the design and construction of the entire core and shell base building. This category evaluates the building skeleton, which includes the outer shell and the basic equipment (construction of the tenant fit-out is not included).
【Outline of Park Ventures】

Construction Place: Bangkok, Thailand


Client: Lertrattakarn


Designer: Palmer & Turner


Constructor: Thai Obayashi


Construction Period: June 2009 ~ August 2011


Construction Work Summary:Reinforced Concrete、B2F/33F、Total Floor Area 95,034m2


---
Related Links