OBAYASHI AWARDED PRESTIGIOUS WELL CERTIFICATION BY THE INTERNATIONAL WELL BUILDING INSTITUTE™ The first WELL Certified™ project in Japan
Obayashi Corporation (herein after "Obayashi") announced that it has been awarded WELL Certification at the Gold level for Techno-station, the main building of Obayashi's Technical Research Institute, TRI (Kiyose-shi, Tokyo) by the International WELL Building Institute™ (IWBI™)(*1). The prestigious distinction was awarded through IWBI's WELL Building Standard™(WELL)(*2), which is the premier building standard for buildings, interior spaces and communities seeking to implement, validate and measure features that support and advance human health and wellness. Techno-station of Obayashi's TRI is the first WELL Certified™ project in Japan as well as the first WELL Certified™ New and Existing Building project in the world.
As the idea that consideration for ESG (Environment, Social, and Governance) is necessary for long-term growth of a company spreads all over the world, well-being is regarded as one of the company's efforts toward a sustainable society from the viewpoint of health management. The WELL Building Standard™is a performance-based certification system that marries best practices in design and construction with evidence-based scientific research, created through seven years of rigorous research and development working with leading physicians, scientists, and industry professionals. WELL was officially released in October 2014 and is now under application in over 31 countries in a wide variety of building types across the world. There are 640 projects that have registered in the WELL program, as of November 2017, and over 50 of which have achieved certification.It is attracting attention for not only improving human health and wellness but also improving productivity. It is beneficial to certify a workplace according to the WELL Building Standard which evaluates features in facilities based on medical and scientific evidence across seven concepts that impact human health. For example, indoor air quality and lighting environments may affect work productivity, concentration or risk of injury. WELL is also expected to lead to the promotion of ESG initiatives by collaborating with LEED (Leadership in Energy and Environmental Design), which is the most widely used green building rating system in the world. WELL is primed to be adopted in the same way that LEED has been.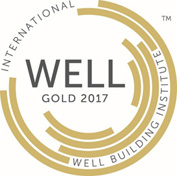 Obayashi identified the methods as a comprehensive "Wellness building", for design, construction, operation and management which contribute to healthier activities, and improved interior environmental factors for building users as well as realize safety and security, health and comfort in the building. After completing the process of documentation review and local testing and verification, Obayashi obtained WELL Certification on November 21, 2017 as the first WELL Certified™ New and Existing Building project in the world.
Since the completion of construction in 2010, Techno-station has been used as an office building with a state-of-the-art research environment that achieves energy conservation (ZEB) and workplace productivity. Techno-station has already been rated as a high performing building through certifications including rank-S for CASBEE NC and Platinum for LEED EBOM, which has deemed it an advanced green building with high performance of energy savings. Indoor environment and lighting environment underwent a re-evaluation from the perspective of the WELL. The user flow inside the office space, the surrounding natural environment, the working style of occupants, and the cafeteria menu were reviewed in the evaluation criteria. Since there are several findings that too much sitting raises health risks, investigation on the influence on physical and mental aspects of the worker using a standing desk and verification of effective use of them are done by collaborating with Associate Professor Natusko Nagasawa of Ochanomizu University.
Such initiatives at the TRI made Obayashi to accumulate know-how of efficient capital investment, maintenance and management methods for the introduction and evaluation of the WELL into different technical and legal systems of different cultural backgrounds. In addition, Six people (eight people including global group companies) who are now qualified as WELL Accredited Professionals (WELL AP™'s).
Obayashi used this opportunity to actively promote the "Wellness building" philosophy that serves the objectives of attracting customers and boosting revenues in facilities where high hospitality is required, as well as attracting and retaining the highest qualified personnel with the objective of health management and revitalizing working people.
*1 International WELL Building Institute™
The International WELL Building Institute™ (IWBI™) is a public benefit corporation whose mission is to improve human health and wellness through the built environment. Public benefit corporations like IWBI are an emerging U.S. structure for corporations committed to balancing public benefits with profitability - harnessing the power of private capital for greater good. IWBI administers the WELL Building Standard™ (WELL™) - a performance-based system for measuring, certifying, and monitoring features of buildings that impact the health and wellness of the people who live, work, and learn in them. It also supports the growing number of professionals who seek WELL accreditation, as administered by Green Business Certification Inc. (GBCI). www.wellcertified.com
*2 WELL Building Standard™
The WELL Building Standard™ (WELL™) is a performance-based system for measuring, certifying, and monitoring features of the built environment that impact the health and wellness of the people who live, work, and learn in the buildings. WELL focuses on seven categories of building performance: air, water, nourishment, light, fitness, comfort, and mind. The WELL Building Standard is grounded in evidence-based research that demonstrates the connection between the buildings where people spend approximately 90 percent of their time and those buildings' health and wellness impacts on those who use them. The WELL Building Standard is administered by the IWBI™ and third party certified by Green Business Certification Inc.