Order Received for Construction of Weston Tunnel Phase3
Canadian Railway Development Business
Kenaidan group Ltd.(Head Office: Mississauga, Ontario, Canada; CEO: Aidan Flatley) a subsidiary of Obayashi Corporation (Head Office: Minato-ku, Tokyo; President: Toru Shiraishi) and Obayashi Canada Ltd. (Head Office: Vancouver, British Columbia, Canada; President: Yoshiharu Nakamura, established in March, 2011) an oversea affiliate of Obayashi Corporation received an order for the construction of Weston Tunnel Phase3 Grade Separation as a joint venture.
Currently, the City of Toronto has a plan to improve commuter rail systems and directly connect to Toronto Pearson International Airport from Union Station, which is located in the center of the downtown Toronto. This project is a part of the programs. Weston Tunnel Phase3 Grade Separation Project consists of separating Georgetown line and two surface roads. This rail corridor will be lowered and double-tracked by cut and cover method for approximately 20m in width, approximately 1.4km in total length. Two roads crossing the rail corridor will be constructed on the top of roof slab of the rail corridor.
The order received for this project becomes the first large-scale construction in Canada and by Obayashi Canada Ltd.
【Outline of the work】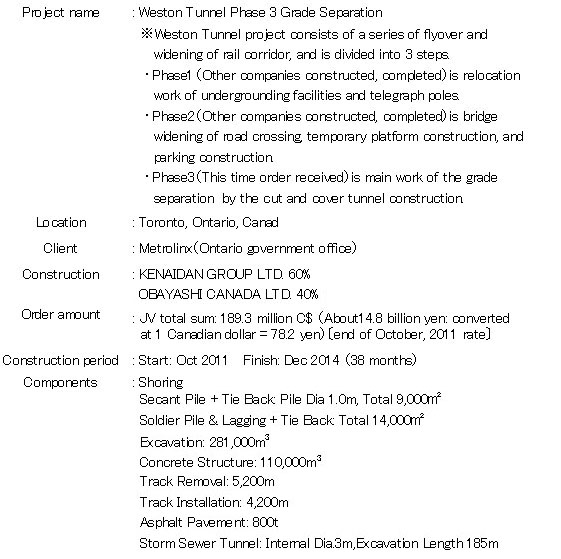 【Weston Tunnel Phase3 Route Map】
【Weston Tunnel Phase3 General View】
【Weston Tunnel Phase3 Conceptional Drawing】