Project Award Announcement: A Large-scale Development Project in Qatar
Obayashi Corporation, in Joint Venture with HBK Contracting Company (Qatar), has been awarded the Phase 3 of a large-scale development project "Msheireb Downtown Doha Project" in Doha, Qatar.
The project's owner, Msheireb Properties (※1), a subsidiary of Qatar Foundation, is undertaking the redevelopment of the historical commercial centre of Doha through 4 construction phases. In phase 3, Obayashi in Joint Venture with HBK Contracting will develop offices, residential apartments, hotel, retail facilities as well as a mosque.
This is Obayashi's first project awarded in Qatar.
【Outline of project】
Project Name
Phase 3 of Msheireb Downtown Doha Project
Location
Doha, Qatar
Client
Msheireb Properties
Design Architects
Squire and Partners (UK), Eric Parry Architects (UK), Mangera Yvars Architects (UK & Spain), John Mc Aslan + Partners (UK), Mossessian & Partners (UK)
Executive Architects
Gensler (USA)
Structural Design
Buro Happold (UK)
MEP Design
Atelier Ten(UK)
Contract Value
Total amount in JV : QAR 2,440 million (JPY 65.8 billion)
[conversion rate at QAR1=JPY26.95]
Obayashi Portion : QAR 1,220 million (JPY 32.9 billion)
JV Partner
Obayashi (JV Leader) 50%
HBK Contracting Company 50%
Construction Period
May 12, 2013 to January 8, 2016 (32 months)
Construction Work Summary
14 RC buildings with connected 4 underground floors and 2-22 stories aboveground. Total floor area : approx.310,000 square meters
Obayashi is strategically expanding its overseas businesses under our mid-term business plan. Obayashi will keep on exploring more opportunities in Qatar where demands on construction, not only for infrastructure, but also for projects such as stadium for FIFA World Cup 2022, are increasing.
【Image】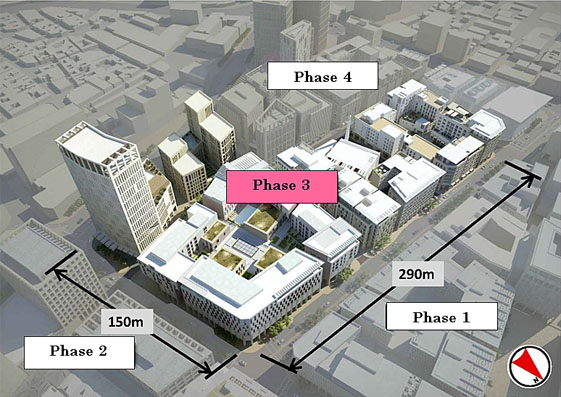 ※1 Msheireb Properties
Msheireb Properties is a real estate company and a subsidiary of Qatar Foundation. The company was established as a commercial venture to support the Foundation's aims as well as the realisation of Qatar's 2030 Vision.
Msheireb Properties' mission is to change the way people think about urban living and improve their overall quality of life, through innovations that encourage social interaction, respect for culture, and greater care for the environment.
Msheireb Properties spent three years researching Qatari architecture and numerous approaches to urban planning all over the world with the most respected experts in the industry - in order to realise an architectural language rooted in the best of the past that may be preserved for and by future generations.
The company's name, Msheireb, means 'a place to drink water' and is the historical name of the downtown area of Doha. The company's corporate identity depicts the mouth of a stone well, a feature of traditional Gulf societies, and its distinct ink effect evokes classical Arabic calligraphy.
Msheireb Properties recently achieved ISO certification from the British Standards Institution for quality (ISO 9001:2008), environmental performance (ISO 14001:2004), and occupational health and safety (BS OHSAS 18001:2007). The company has also earned widespread industry recognition, including at the MIPIM Architectural Review Future Projects Awards in Cannes, France.