Project Award Announcement: Jakarta MRT Project
Obayashi Corporation (Head Office: Minato-ku, Tokyo, President: Toru Shiraishi) has been awarded Jakarta MRT Project, surface section CP103 in JV with Shimizu Corporation (Head Office: Chuo-ku, Tokyo, President: Yoichi Miyamoto) and PT. Jaya Konstruksi Manggala Pratama Tbk (Head Office: Jalan Bintaro Raya, Jakarta, President: Trisna Mulyadi).
The project, which is the first MRT (Mass Rapid Transportation) in Indonesia, will connect from the downtown of Jakarta, Bundaran HI, to the southern area, Lebak Bulus (about 15.7km) in order to reduce heavy traffic jam in the Jakarta metropolitan area. This project is funded by the Japanese government through the Official Development Assistance (ODA).
Obayashi contributes to total three sections of the MRT construction projects as it had already been awarded other two subsurface sections of the MRT project, CP104 (about 1.8km), CP105 (about 2.1km), in JV with Shimizu Corporation and other two companies.
【Outline of project】
Project Name
Construction of Jakarta Mass Rapid Transit Project Surface Section CP103
Location
Jakarta, Indonesia
Client
PT Mass Rapid Transit Jakarta
Service
Design, Construction
Contract Price
Approx. JPY 10billion
Construction Period (Plan)
October 2013 to June 2018 (243weeks)
JV Partner
Obayashi Corporation (JV Leader) 40%
Shimizu Corporation 40%
PT. Jaya Konstruksi Manggala Pratama Tbk 20%
Summary
Viaduct (Length 3.8km, Double track, Width 9.5m,
Standard span length 36.7m, Pier height 6.5~12.5m),
4 Stations, 1 Receiving substation building, etc.

Obayashi has many records of transportation system projects and is currently undertaking two projects in Toronto, Canada. We will keep on exploring more opportunities of transportation projects in North America, Middle East and other areas for strategic expansion of our overseas businesses under our Medium Term Business plan 2012.
【Image】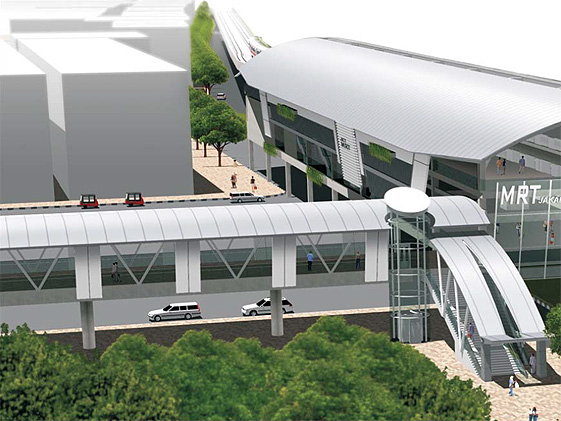 【Contract signing ceremony】
Tweet