URUP (Ultra Rapid Under Pass) Method wins the Prime Minister's Prize in the Fifth Monodzukuri Nippon Grand Award
Enable tunnel boring machine to be launched and arrive at ground level
Tokyo, September 18, 2013 - Obayashi Corporation is delighted to announce that the URUP Method has received the Prime Minister's Prize in the Fifth Monodzukuri (manufacturing) Nippon Grand Award organized by the Ministry of Economy, Trade and Industry, the Ministry of Land, Infrastructure, Transport and Tourism, the Ministry of Health, Labour and Welfare, and the Ministry of Education, Culture, Sports, Science and Technology. Overcoming high technical problems and realizing practical use of production technology have been evaluated.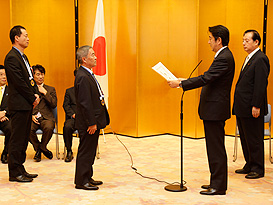 The Monodzukuri Nippon Grand Award is a program to recognize outstanding individuals in various generations engaged in monodzukuri. Winners can be middle-standing individuals playing key roles in manufacturing and production, masters supporting traditional or cultural arts, and young people expected to become a mainstay of future monodzukuri. Every time, there are a large number of applicants, the Prime Minister's Prize is awarded to those recognized as particularly outstanding in them.
The URUP method is the world's first tunneling technology where the tunnel boring machine is launched from, and arrives at, ground level. It enables rapid construction of road and railway underpasses. In comparison with conventional construction methods, the URUP method shortens the construction period by roughly two-thirds by eliminating the need for open-cut excavation and vertical shafts. The URUP method also substantially alleviates traffic congestion and noise associated with the construction work. The URUP method should contribute to reducing CO2 emissions as well.
Obayashi will contribute to the development of transportation infrastructure by proposing the URUP Method in domestic and overseas urban areas. Obayashi works to carry out the technical research and development to provide best solutions for industry and culture.