World class Large Tunnel Boring Machines Started Operation
Waterview Connection Tunnels in New Zealand
Obayashi Corporation (head office: Tokyo; President: Toru Shiraishi) is in the process of constructing the Waterview Connection Tunnels and Great North Road Interchange in Auckland, New Zealand in alliance with the Fletcher Construction Company (head office: New Zealand), McConnell Dowell (head office: Australia), three design consultants and the Client.
The aim of this Project is to ease traffic congestion and improve access to the city of Auckland where a third of the country's population resides. It is the country's largest road project and includes a 2.4km tunnel under residential areas. The outer diameter of the tunnel boring machines (TBM) utilized in the construction project is 14.46m, which is the largest scale undertaken not only in Japan but also in the world.
On October 31, 2013, the Transport Minister Mr. Gerry Brownlee and the Auckland City Mayor Mr. Lee Brown were joined by 150 guests at a ceremony to celebrate the launch. Finally, with great anticipation and after a two-year preparation period - initiated when the project was award - the 14.46m diameter TBM commenced excavation on November 8, 2013.
【Ceremony to celebrate the launch】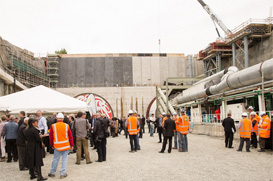 Obayashi contributes to the Waterview Alliance through its experience in large-diameter TBM tunnelling projects in Japan such as the Tokyo Bay Aqua Line and the Central Circular Shinjuku Route of the Metropolitan Expressway, which were delivered in short construction periods and with minimal ground settlement. As Obayashi proceeds thorough the next 23 months of the tunnel construction phase of this project, we will utilize the experience and technology we have gained to date and continue to innovate and improve this as construction continues.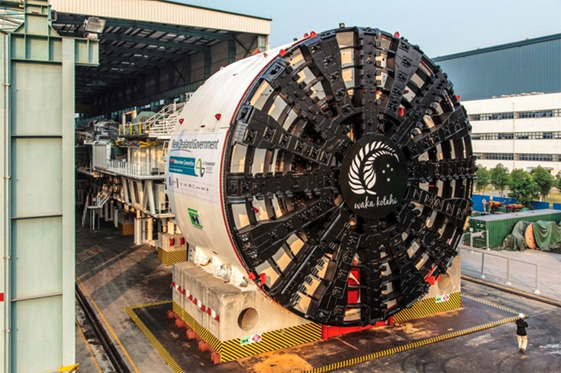 【Outline of project】
Project Name
Waterview Connection Tunnels and Great North Road Interchange
Client
The New Zealand Transport Agency: NZTA
Location
Auckland, New Zealand
Contract Amount
NZ$ 1,164,723,281
Service
Design and Construction
Alliance
Client: NZTA
Contractor: Fletcher Construction Company (New Zealand),
McConnell Dowell (Australia),
Obayashi Corporation
Architect: Parsons Brinckerhoff (Australia Branch),
Beca Infrastructure (New Zealand),
Tonkin and Taylor (New Zealand)
Construction Period
November 28, 2011 to March 21, 2017 (1,940 days)
Summary
Viaduct interchange: 4 ramps, Total length approximately 1,540m
TBM tunnel: Twin tunnel 2,400m, Total length approximately 4,800m,
Excavation period 23 months
・TBM type: Earth Pressure Balance (EPB)
・Excavation outer diameter: 14,460m, TBM length: 12.585m
・Segment outer diameter: 14.0m, segment inner diameter: 13.1m, Segment width: 2.0m
Cross passage emergency evacuation passage and fire extinguish facility): 150m intervals
Open cut approach : RC pile earth retaining (south side), underground continuous wall (north side), Total length approximately 420m
Cut-and-fill earthworks: Total length approximately 1,240m
Others: ventilating stack、traffic control system in the tunnel, M&E facility
【TBM】
Outer Diameter 14.46m, Length 2.585m, Weight 2,500t, Cutter Torque 68,220kNm, Total Thrust 228,000kN
This TBM is one of the world's largest scales which were manufactured by Herrenkncht, a German manufacturer of TBMs. This is the first time the Spoil Visualization System developed by Obayashi is being applied to an overseas project.
【Location Map】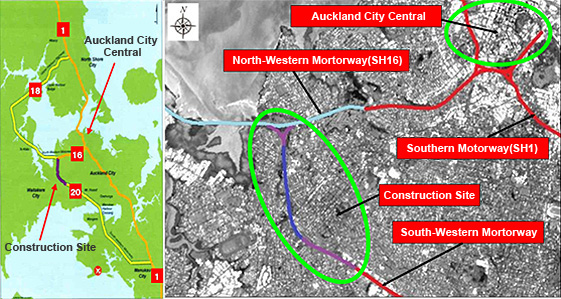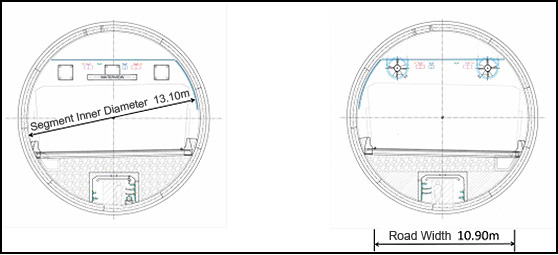 Tweet