TOKYO SKYTREE Construction Project
Obayashi built the number one tower in the world!
TOKYO SKYTREE® has appeared in the Narihirabashi/Oshiage area of Sumida Ward, Tokyo in 2012. Boasting a height of 634m, the tower is one of the world's tallest.The construction posed a substantial technical challenge, and Obayashi was utilizing a number of proprietary technologies in the construction of this new global landmark.
Project outline
| | |
| --- | --- |
| Name: | TOKYO SKYTREE |
| Location: | 1-chome Oshiage, Sumida-ku, Tokyo |
| Site area: | Approx. 36,900m² (tower plus the East and West districts) |
| Height: | 634m |
| Building type: | Observatory (first at 350m; second at 450m) |
| Structure: | Steel, steel-reinforced concrete, and reinforced concrete |
| Foundation work: | Cast-in-place concrete piles and underground continuous wall piles |
| Commencement of work: | July 2008 |
| Completion: | February 2012 |
| Client: | Tobu Tower Sky Tree Co., Ltd. |
| Architect: | Nikken Sekkei Ltd. |
| Constructor: | Obayashi Corporation |
Overview of Facilities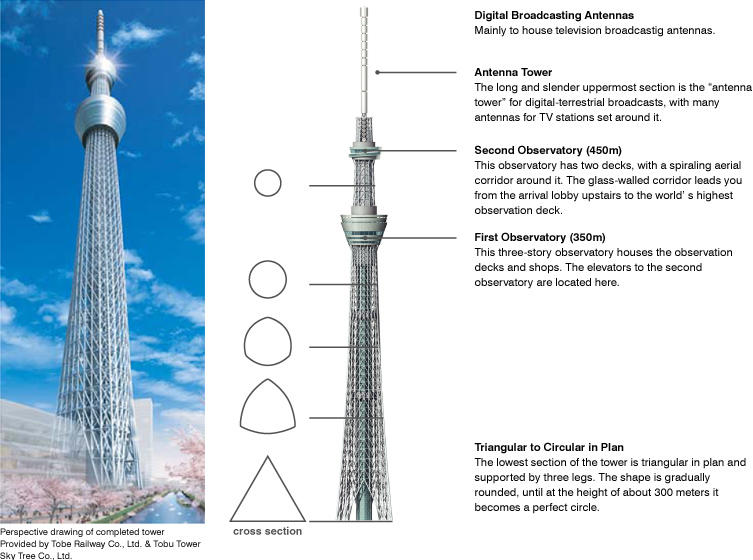 Construction Technologies
Slipform Construction
The tower has a central-pillar structure, similar to that of a five-story pagoda. Obayashi built a group of 400 m steel-reinforced concrete central pillars at the core of the tower's steel frame.
Slipform construction is a method of efficiently constructing towering structures safely and with high precision in a short period of time by continuously placing concrete into formwork that is raised progressively upward with jacks. Special expertise is required for managing the speed and accuracy of formwork elevation, concrete mixing and pouring, and other specifications.
Obayashi is continuously improving the method and has an extensive track record constructing smokestacks and other structures exceeding 200 m in height.
Knuckle Walls
The tower's foundation is subjected to strong uplift and compressive forces from winds, earthquakes, and other factors.
The "knuckle walls" developed by Obayashi are wall-shaped piles with nodular protuberances. These nodules solidly anchor the piles in the ground and substantially increase their load-bearing capacity.
Additionally, knuckle walls are highly rigid by virtue of their shape, making them highly resistant to horizontal seismic forces.
Knuckle walls robustly fortify the foundations of ultra-tall structures such as TOKYO SKYTREE.