Obayashi Participated in the 1st Arabian Tunnelling Conference 2013
The first international tunnelling conference and exhibition in the Middle East and African region, Arabian Tunnelling Conference (ATC 2013), was held on the 10th and 11th of December, 2013 in Dubai, United Arab Emirates. Obayashi Corporation presented its unique technologies, services and key cutting edge engineering and construction projects worldwide.
Focusing on the conference theme: "Sustainable Tunnelling in the GCC (*1), Challenges and Opportunities", over 600 experts from 50 countries around the world showcased their products associated with sustainable underground space utilization.
At the conference, the engineers of Obayashi introduced their patented technologies such as the Ultra Rapid Under Pass Method (URUP), Tunnel Navi (New Geological Prediction Ahead of the Tunnel Face by the Exploration Drilling System), Pre-Set Wedge Joint for Segment, Inclined-Braceless Excavation Support (IBES), Concrete with Seawater and Unwashed Seasand, and explained the special features of their Dubai Metro Project, the world's longest driverless metro. The URUP Method was especially admired by an important amount of participants because of its uniqueness and effectiveness.
Many visitors including Essa Al Maidoor, and Soren Eskesen, President of the International Tunnelling and Underground Space Association (ITA), came to the Obayashi's exhibition booth. Obayashi impressed potential clients and consultants in the Middle East and the African region with its unique technologies. Obayashi's Middle East Office has received many inquiries after the ATC 2013.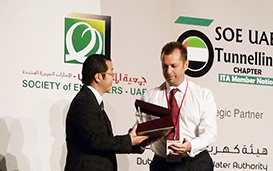 "Questions asked by the visitors, including government executive officials, made me realize how strong the needs of infrastructure improvement, such as interchanges, subways, and sewage treatment plants in the Middle East and African region." said Makoto Kanai, who explained Obayashi's technologies to visitors at the exhibition booth. "We need to promote business activities in those areas."
The Present Condition of the Dubai Metro
Obayashi JV completed the design and construction of the Dubai Metro Project, the world's longest driverless rail system with a total length of 75 kilometers in 2011. The system nowadays has eased the daily commute for thousands of peoples in the Emirate of Dubai.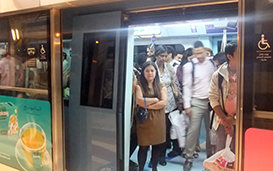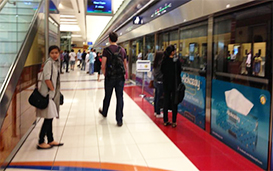 Obayashi will continue to engage in the development of the social infrastructure projects using its cutting edge civil engineering technologies in order to facilitate the development of societies in which people throughout the world feel comfort and safe.
*1 GCC: Gulf Cooperation Council