Pharmaceutical Production Facility Engineering
From the beginning to the goal of a pharmaceutical facility construction
Obayashi Group will provide total support for our client's projects, utilizing our rich know-how and reliable technology in order to achieve stable production as well as high quality and safety that meet international standards.
The merits of comprehensive service
Improved quality
Quality is improved through total quality management whereby all processes from planning, design and construction to maintenance are implemented under a consistent system.
Shortening of the overall process, project cost reduction
Being able to unify the management of various areas of expertise renders coordination between distributors by the client unnecessary and allows shortening of the overall process, resulting in reduced costs and a reduction in the number of client's staff for the project.
Economical cost allocation
Economical cost allocation is possible as the entire process from planning to maintenance is managed via a consistent system.
We will realize the pharmaceutical facility that meets all aspects of the owner's expectations: functionality, durability, safety and sustainability.
Scope of Obayashi Group Service
We will offer engineering, procurement, construction / installation, commissioning / validation and maintenance services of not only building, electrical and HVAC but also process equipment, purified water system, process utility and material handling system. We realize effective facility by harmonizing building with production equipment
Production equipment
We will construct a production system tailored to the client's various needs to facilitate the production of high-quality pharmaceutical products with greater functionality. We boast rich know-how and extensive experience with biological products, injections, solid dosage forms and API(active pharmaceutical ingredients), etc.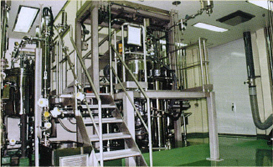 Process water/utility equipment
We provide process water that complies with the strict GMP quality control standards. Utility equipment such as clean steam and compressed air, etc. is constructed under a system optimized for the quality that is required.
Automation/In-plant logistics/MES
We implement systems such as production automation systems aimed at the reduction of labor and prevention of erroneous operation, in-plant logistics systems for easy inventory management and streamlined conveyance and manufacturing execution systems aimed at integrating production information management and production support management, etc.
Auto Guided Transport System
Obayashi Group's Technology to Support Each Phase
Plant survey
We implement various surveys such as GMP diagnosis, comprehensive plant diagnosis and environmental measurement of the manufacturing area, etc. which are then reflected in the planning for the new plant or plant reconstruction.
Simulation
We will derive optimal solutions utilizing the latest simulation technology, visualize these solutions, making them easy to understand, and incorporate them into the plant design.
BIM (Building Information Modeling)
The maintainability of piping and equipment can be examined from different angles and perspectives.
Air flow planning by computer simulation
The most appropriate air flow conditions are determined by using numerical simulation by super computer. The result is then applied to the HVAC design. For example, the simulation such as converting a staircase into a clean room. Another example would be the ventilation caused by the heat emissions from equipment.
Anti-insect/rodent measures
We provide comprehensive anti-insect/rodent measures that follow the three general rules:
"do not attract them", "do not let them infest the plant" and "prevent breeding and proliferation".
ISS / ceiling panel system that supports walking
Insulation panels that support walking are adopted as ceiling materials which results in increased operability of interstitial spaces. Our unique HEPA filter box and lighting fixture which can be maintained from above the ceiling without contaminating the manufacturing space.
Containment Facility
Facilities in which hazardous materials are handled are required to have containment system of equipment and facilities through their lifecycle. Obayashi Group will provide engineering services to realize the most appropriate facility matching its character by following approach.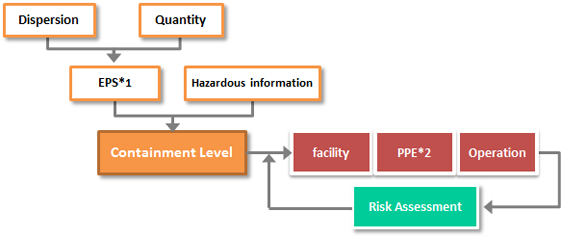 Room Decontamination
Obayashi Group has technologies of room decontamination with Hydrogen Peroxide (H2O2) to decontaminate process rooms and equipment certainly with more attention to prevent corrosion. We will provide the most appropriate system as a facility's character.
Connecting Type Vibration Control Technology for AS/RS*
*AS/RS: Automated Storage and Retrieval System
This technology controls vibration of building frame and storage rack which are connected with vibration control damper. It prevents dropping stocks and also controls the earthquake input to the building frame.
Other technology we possess
Containment of hazardous substances
Cross-contamination prevention measures
Floor concrete cracking control
Optimization of floor finishing materials
Waste water treatment system construction
Soil contamination countermeasures
Energy-saving measures
CO2 emission-reducing technology
Natural energy-utilizing technology
Fire and explosion countermeasures
Disaster countermeasures
 (Seismic isolation, damping, BCP support)
Security measures (facilities, information, personnel)
Validation Support
Obayashi Group has a lot of experience to support validation work with fully understanding of GMP. We will totally support owner to develop Validation Master Plan, to develop and implement the DQ/IQ/OQ protocol and to assist the PQ.